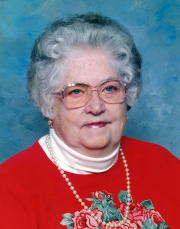 Oma Truman, 92, of Left Hand, died Friday, August 30, 2007, in the Roane General Hospital, Spencer, after a long illness.

She was born December 23, 1914, in Calhoun County, a daughter of the late Neal and Darie Keith DeWeese. In addition to her parents, she was preceded in death by her husband, Lawrence Truman in 1988; three brothers, two sisters and one grandchild.

Oma was retired from the Roane County Board of Education as a cook. She had cooked for many years, first at the Gravel Hill School and then at Geary Elementary. She was a member of the Henry's Fork Baptist Church, Tariff.

Survivors include four daughters, Nellie Butler of Madison, OH, Gladys Carper of Tariff, Oeta Miller of Spencer and Delores Siers of Mineral Wells; three sons, Alvis "Sonny" Truman of Spencer, Harry S. Truman and James A. Truman both of Left Hand; one sister, Myrtle Jarvis of Akron, OH; 14 grandchildren, 22 great grandchildren and six great great grandchildren.

A funeral service will be conducted Sunday, September 2 at 11:00 a.m. in the John H. Taylor Funeral Home, Spencer. Burial will be in the Clover Cemetery, Clover.

Friends may call at the funeral home from 5-8 p.m. Saturday.