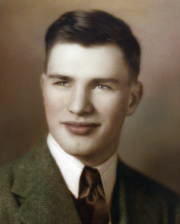 Frederick L. Shock, 84, of Grantsville, West Virginia, died August 16, 2007 at his home.

Fred was born April 17, 1923, in Clarksburg, WV. He and his family moved back to Mt. Zion, Calhoun County, when he was five years old.

After high school, he worked in the oil and gas drilling industry. He was a veteran of WWII and served on the Island of Saipan for two and a half years, operating on B-29 bombers. Following the war Fred was a small business owner and farmer. Many people knew him for his feed store business, poultry operations, and the Mt. Zion Construction Company. Many people also knew him as a rural mail carrier, which he did for over thirty years.

Survivors include his loving wife of 68 years, Jean Wright Shock; his son and daughter-in-law, Mark and Linda Weaver Shock; and his three granddaughters, Lisa Weaver, who lives in Hayden, KY with her husband David Weaver, Jennifer Shock, who resides and works in Cross Lanes, WV, and Barbara Shock, a student at West Virginia University, Morgantown.

Fred was preceded in death by his parents, Clinton and Viola Fowler Shock.

He was a devoted husband and had unquenchable enthusiasm for life. He was an active member of Enon Baptist Church for over 50 years. He was a member and chairman of the Deacon Board and taught Sunday School for countless years. He was an effective member of the community for many years and was instrumental in securing the first rural public water system in the state of West Virginia. Fred was an avid sportsman, enjoying hunting and fishing his whole life. He was also a great fan of NASCAR, traveling to many races.

Funeral services will be held 2 p.m. Sunday, August 19 at Stump Funeral Home, Grantsville. Rev. John Vannoy and Elder Richard Westfall will officiate. Interment will be in the Mt. Zion Cemetery.

Friends may call from 6 to 8 p.m. Saturday at the funeral home. In lieu of flowers, memorial contributions can be directed to Hospice of Burnsville - address: Hospice Care, PO Box 323, Burnsville, WV 26335.