By Bob Weaver 2010

It has been the never-ending murder case.

A third trial for the gruesome murders of Ward Groves, 69, and Mary Hicks, 60, in 2003 is set for July 6 in Jackson County, following the verdict being over-turned twice by the West Virginia Supreme Court because of State Police blunders.

Special prosecutors have been appointed to the case, with Cpl. Doug Starcher the lead investigator for the state.

Hanging over the case are problems with missing evidence taken into custody by the Grantsville State Police, including money and guns that have reportedly disappeared.

State Police in Calhoun have been plagued with problems related to missing evidence.

Officers with the Grantsville detachment, according to court records, have been responsible for a series of misconduct problems that have continued the case against Ronnie Rush for seven years.

The Supreme Court has overturned two guilty convictions by juries, one in Calhoun and one in Jackson, one verdict sentenced Rush up to 66 years in prison.

The latest reversal by the Supreme Court resulted from the tainting of a Jackson County jury by Cpl. Doug Starcher, who carried on conversations with jury members during a lunchtime break.

Defense counselors Teresa Monk and Rocky Holmes said such conversation tainted the jury and the trial, but Judge Thomas Evans III disagreed.

While dismissing two of the jurors, Evans maintained the defense failed to show prejudice with the trooper's conversations.

"Was it a stupid thing for the trooper to do?," Judge Evans asked, answering, "Unquestionably..."

Monk said if she and defense attorney Holmes had engaged in such conversation with the jurors, the case would have come to a halt.

No charges have been filed against the officer.

She said one of the two remaining "tainted jurors" consequently became the jury foreman.

Monk said she and Holmes took to heart Judge Evans' admonishment "that no one was permitted to speak to or have any contact with any member of the jury."

The high court ruled in favor of the appeal.

Their first reversal in the case resulted from a series of performance problems and constitutional violations by the State Police.

A Calhoun jury first convicted Rush of voluntary manslaughter, first-degree robbery, nighttime burglary and conspiracy to commit robbery, although the case lacked forensic evidence.

Rush has previously declined entering in a plea agreement.

Defense attorney Teresa Monk said during a hearing that State Police didn't count the evidence money because they were going to test it for fingerprints.

She said the fingerprint tests never happened.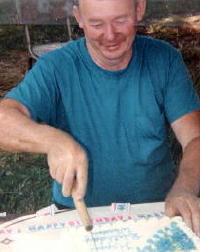 Murder victims Warden Groves and Mary Hicks
A Calhoun jury convicted Rush of voluntary manslaughter, first-degree robbery, nighttime burglary and conspiracy to commit robbery, although the case lacked forensic evidence.
In 2004 he was sentenced to consecutive terms totaling at least 45 years.
TESTIMONY AND THE MONEY TRAIL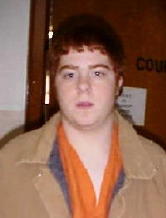 Rush (left) reportedly gave conflicting statements to the State Police regarding the murders, once saying he saw masked individuals leaving the house.
Court documents also indicate he told his father that Bobby Ray Shamblin of Stumptown held him at gunpoint while Shamblin committed the crimes.
Shamblin was initially charged with crimes related to the murder, but an apparent lack of evidence against him prevented the case from moving ahead. Shamblin was released from Central Regional Jail on bond.
Police say at least three different "batches" of money are connected to Ronnie Rush, money that could be part of a $170,000 inheritance received by the victim Ward Groves before his murder.
Calhoun Sheriff Allen Parsons and Chief Deputy Carl Ballengee discovered about $1,000 in a GMC Blazer driven by Rush shortly after the murders.
Other cash and coins, reportedly belonging to Groves, was found in a Chevy S-10 truck purchased by Rush from the victim and parked near the murder scene.
State Police returned to a trailer later, occupied by Rush's father and step-mother where $2,700 was discovered in a trash can, according to a statement made by Trooper Jeff Hunt.
The agency did confirm that former detachment commander C. J. Ellyson was removed from the force, but the agency has continued to deny requests for information regarding internal investigations or supervisory actions they might have taken against officers regarding misconduct or performance.
No criminal changes have been filed.
See related stories:
RUSH'S ATTORNEYS FILE FOR SECOND RE-TRIAL - Claim Calhoun Trooper Tainted Jury
SUPREME COURT HEARS RUSH APPEAL - Trooper Tainting Jury At Issue, Attorney Holmes Says "You Can Not Let This Stand"
WV SUPREME COURT ORDERS NEW TRIAL FOR RONNIE RUSH - Court Indicates Calhoun Trooper Tainted Jury