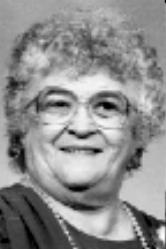 Amie Jane Norman Starcher, age 85, of Northfield Village, Summit County, Ohio, parted this life Monday, July 02, 2007 at her residence following a lengthy illness.

She was born May 5, 1922 at Orma, Calhoun County, WV, a daughter of the late Charley and Mamie Mae Duncan Norman. On , April 11, 1941 she was united in marriage to William Fotch Starcher (son of Harrison F. and Ivy Mae Mace Starcher) who preceded her in death on December 16, 2001.

She is survived by two sons; William "Bill" Starcher, Ronzil "Chuck" Starcher and wife Carol; one daughter; Lucille Starcher; four grandchildren, Debra, Cathy, Ron, and Rick; and nine great grandchildren. One brother, Ernest Ray Norman of Cambridge, Ohio; one half brother Jerry Scritchfield of Parkersburg, WV. Numerous nieces, nephews and friends also survive.

In addition to her husband and parents she was preceded in death by four sisters, Zona Marea Shaffer, Judith Bessie Perkins, Opal Arleta Greathouse and Lida May Carper; three brothers, Gary Leon Norman, Walter Joseph Norman and Alex Lee Murphy and one half brother, Terry Norman.

Mrs. Starcher was a 40 year member of the Women of the Moose.

In lieu of flowers, memorial contributions in her name are suggested to The Northfield Village Fire Department, 60 West Aurora Road, Northfield, Ohio 44067.

Funeral services were held Friday July 6. Interment followed in the Crown Hill Cemetery, Twinsburg, Ohio.

The Ferfolia Funeral Home, 356 W. Aurora Rd. (Ohio Rt. 82) Sagamore Hills, Ohio, assisted the family of Amie Starcher with arrangements.