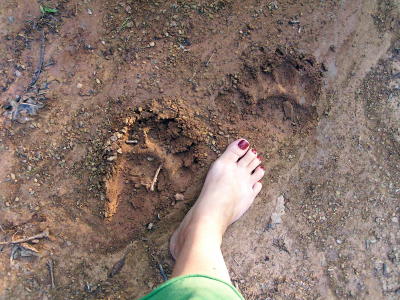 The area's largest wilderness area, Bear Fork, has always been known for wildlife, more specifically bear and rattlesnake.
These large footprints were photographed in 2007.
Could it be "Big Foot," since a report came from the same general vicinity.
Actually these are bear tracks found in Bear Fork, summer of 2007, not far from Crummies Creek Road.
A large bear was shot on Crummies in 2010, that could have been the maker of the prints.
The foot shown in the photo is a womans 7 1/2 shoe size. (Photo by Lisa Hall)