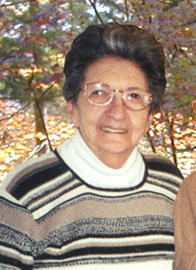 Ernestine Ross Ferguson of Mount Zion passed away Sunday, June 10, 2007 at North Hills Passavant Hospital, Pittsburgh, Pennsylvania, of complications from a broken hip due to a fall.

She was the wife of the late Jack M. Ferguson for 70 years. She attended the Mt. Zion United Methodist Church.

Surviving are her daughter, Virginia Ferguson Ice; sons-in-law William L. Ice and David M. Salisbury; and daughter-in-law, Gloria Ferguson; grandchildren, Teresa Ice (Paul) Pomerleau, Douglas Ice, James Ice, Tammy Ferguson (Rick) Canterbury, John K. Ferguson, and William Salisbury. She is also survived by 10 great grandchildren.

In addition to her husband she was preceded in death by her son, John D. Ferguson, and her daughter, Elizabeth Ferguson Salisbury.

Friends will be received from 6 to 8 p.m. June 14, and services will be 2 p.m. June 15 at Stump Funeral Home, Grantsville. Rev. Rick Swearingen will officiate.

She will be buried at the Whipkey-Ferguson Cemetery at Nobe.

In lieu of flowers, donations may be made to the Mt. Zion United Methodist Church, Box 825, Grantsville, WV 26147 or to the Leukemia Society, PO Box 4072, Pittsfield, MA, 01202.