Family members present Lucy Marks with her own
quilt with family photos at Sunday's homecoming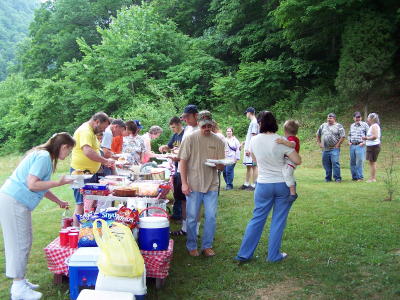 They came back to her hillside home on Nicut to honor Lucy ...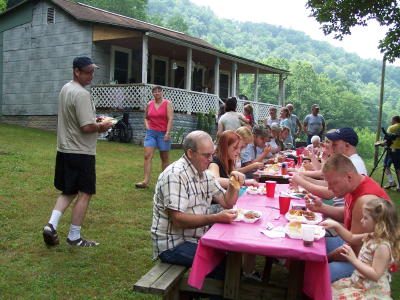 ... whose spirit has lifted their heart
and the heart of the Calhoun community
By Bob Weaver 2007
Lucy Marks was home again in her little hillside house along Nicut this weekend, returning to the county for her family reunion.
The well-known Calhoun woman, now 92, broke her leg last year, disrupted her dancing adventures, and went to North Carolina to stay with a relative to mend.
With her family numbering about 130 descendants, most gravitated to her side for a hug, a kiss and a smile.
Lucy has made many, many quilts for family and friends over the years. This weekend she was presented with a memory quilt, embellished with dozens of photos of her loved ones.
The Marks family has spawned a lot of musicians and ministers, including Calhouner Rev. Carl Marks.
"We had some really tough times with our big family," said Lucy, "but I always believed we'd come out the better for it."
Lucy will pass to the beyond someday, but she will be remembered for her bright spirit which has never grown old.
Editor's Note: Lucy died July 9, 2008.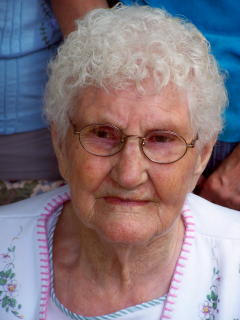 I have heard of a land on the far away strand
'Tis a beautiful home of the soul
Built by Jesus on high, there we never shall die
'Tis a land where we never grow old
Never grow old, never grow old
In a land where we'll never grow old
Never grow old, never grow old
In a land where we'll never grow old
In that beautiful home where we'll never more roam
We shall be in the sweet by and by
Happy praise to the king thru eternity sing
'Tis a land where we never shall die
When our work here is done and the life crown is won
And out troubles and trials are o'er
All our sorrows will end and our voices will blend
With the loved ones who've gone on before
MARKS CHILDREN (L to R behind Lucy) Carl Marks,
Vicki Chastine, Ray Marks, Virginia Brady, Ronzel
Marks, Wanda Lee McCumbers and Lester Marks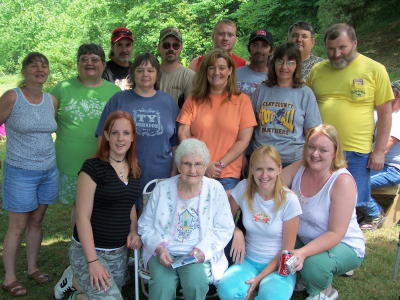 Some of Lucy's grandchildren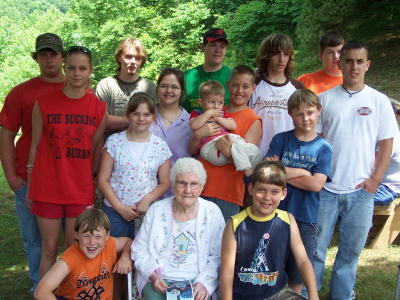 Some of Lucy's great-grandchildren