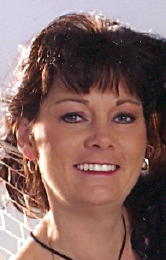 JoAnne Webb, 47, of Cross Lanes, died Tuesday, May 29, 2007, in the Charleston Area Medical Center, Memorial Hospital, Charleston.

She was born October 25, 1959, in Akron, Ohio, the daughter of Robert and Juanita E. Carper Webb of Cross Lanes, formerly of Walton.

Joanne was a customer service representative for Cingular Wireless. She had worked as a beautician, a make up artist for Photo-1, Kellwood Corp., and as manager for Shoe Show. She was a graduate of Walton High School.

In addition to her parents, she is survived by a daughter, Ashlee Nicole Lange of Charleston; brother, Robert Allen Webb of Broadway, VA; cherished companion, Jeff Vickers of Charleston; special dad, Ray George of Charleston; very special aunts and uncles; several nieces and nephews.

She was preceded in death by her grandparents, Brad and Mable Carper - Guy and Hattie Parsons.

A funeral service will be conducted Friday at 1 p.m. in the John H. Taylor Funeral Home, Spencer, with the Rev. Jack Roberts officiating. Burial will be in the Epling Chapel Cemetery, Looneyville.

Friends may call at the funeral home from 5-8 p.m. Thursday.