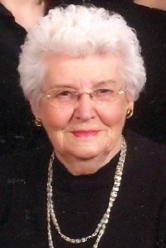 Alene "Tommie" Reed, 84, of Spencer, West Virginia, died Wednesday, April 18, 2007, at her home, after a brief illness.

She was born August 24, 1922, in Butler County, Pennsylvania, the daughter of the late Homer and Hazel Hart Thompson. In addition to her parents, she was preceded in death by her husband, Hessel Reed; and one brother, Harold Thompson.

"Tommie" was a loving mother and grandmother. She was a member of the Roane General Hospital Auxiliary and the Memorial United Methodist Church, Spencer.

Survivors include one son, Stan Reed of Grafton; Becky Roton of Vienna and Robin Armor of Arden, North Carolina; seven grandchildren and two great grandchildren.

A funeral service will be conducted Saturday, April 21 at 1:00 p.m. in the John H. Taylor Funeral Home, Spencer, with the Rev. Beth Peters officiating. Burial will be in the Eventide Cemetery, Spencer. Friends may call Friday, April 20 from 2-4 and 6-8 p.m. at the funeral home.

Memorial contributions may be given to Roane General Hospital Auxiliary, 200 Hospital Drive, Spencer, WV 25276.