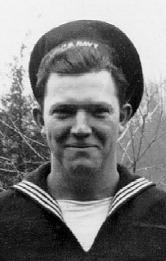 Woodrow Wilson Whytsell, 88, of Arnoldsburg, West Virginia, passed away Sunday, April 15, 2007 at Ruby Memorial Hospital, Morgantown.

He was born December 11, 1918 at Richardson, Calhoun County, the son of Edwin Lowell and Rettie Starcher Whytsell.

He was part of the US Navy Amphibious Forces in the Pacific Theater and received several medals.

He was a member of the American Legion Post 21 in Spencer and the VFW Post 5959 in Grantsville.

He worked as an oil field driller. He was well known for his singing and playing the mandolin as part of the Whytsell Brothers duo. He attended Leatherbark Community Church.

Surviving are brothers, Victor Eugene and Randall Edwin both of Arnoldsburg; daughters, Geraldine "Deanie" Efaw of Sistersville and Brenda Lane (Floyd) of Jefferson, Ohio; stepdaughter, Marie Hays (Melvin) of Arnoldsburg; and stepsons, James Johnson (Ada), Cecil Johnson (Sylvia) of Middlebourne, Charles Johnson of Mountain, Harold Johnson (Linda) of Bridgeport and Gary Johnson of Harrisville. He is also survived by four granddaughters; two grandsons; six step-grandsons; six step-granddaughters; eleven great-grandchildren; sixteen step-great-grandchildren, and several nieces and nephews.

In addition to his parents, he was preceded in death by wives, Sylvia, Doris, Mae, and Ola; sisters, Hazel Connolly and Elizabeth McCoy; brothers, Charles Davis and Dewey Paul Whytsell, and one step son, James "Joe" Church.

Services will be at 1 p.m. Wednesday, April 18 at Stump Funeral Home, Arnoldsburg, with Reverend D.L. Kirby officiating. Burial will follow in the Lynch Cemetery.

Visitation will be from 6-8 p.m. Tuesday at the funeral home.