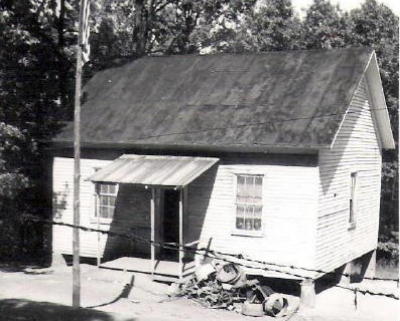 Stevens school on Pine Creek Hill with iron
scrap for World War II effort seen in front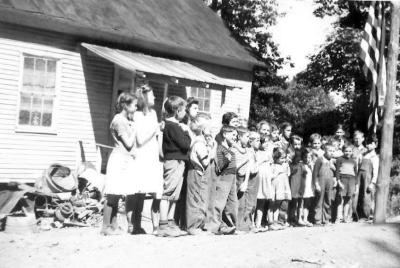 Students in early 1940s saluting American flag
(Photos compliments of Juanita Haught Willard)
The Stevens one-room school was re-located to the Calhoun Park and dedicated in 2002, a reminder of over 100 one-room schools that once stood in Calhoun County.
It was dismantled and re-assembled by the Calhoun Historical Society members and lots of volunteers from the community.
The school was built about 1885 on Pine Creek Hill, up the steep mountain from Grantsville. The rustic, treacherous and steep road remains much the same these years later, in many ways isolating the residents of the hill and the lower Pine Creek area from the town of Grantsville.
The photos shown here are from Juanita Haught Willard of Newbern NC, who said it was her first teaching assignment in 1942-43. "I had 42 children in grades one through eight," she said, walking up that steep hill from town.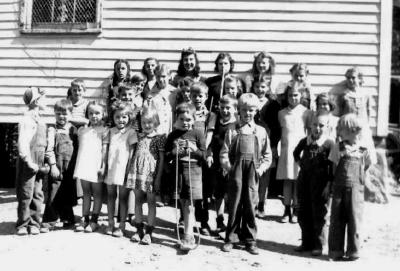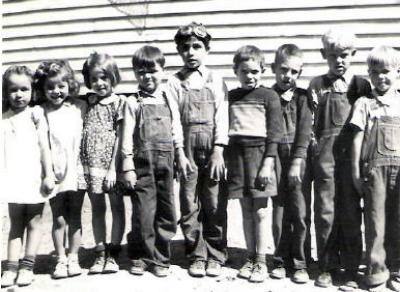 Stevens school, although a rock-throw from Grantsville, separated by a primitive road, drew students from the Pine Creek backwoods
Willard said World War II was in full-force, and she and her students scoured the country-side for metal for the war effort.
The Stevens school is part of the Heritage Village at the park, standing beside the Jarvis General Store, Charlie Starcher's Blacksmith Shop, the Freed Post Office, with other new additions being planned.
See Historical School Has Open House