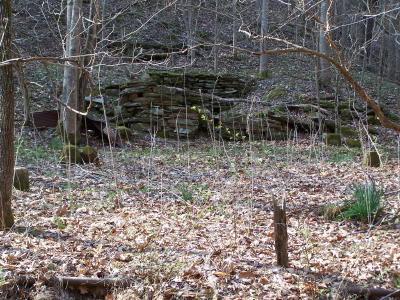 Mike's Run "hasn't changed much, just fewer people,
and fewer houses," shown, remnants of an old homestead belonging to Frank and Lula Hayhurst Metz
By Bob Weaver 2007
They hauled ailing Harley Collins out of Mike's Run in the early 1950s because he could no longer take care of himself.
"They brought him out in a refrigerator box on a horse-pulled sled, using blankets as a pad, with pillows around him," said grand-daughter Norma Knotts Shaffer, the Herald's Associate Editor.
The old man never went back to the narrow and remote holler, spending the rest of his days with his daughter Hazel and her husband, Robert J. Knotts.
Harley and his wife Ruth Stump moved into the Mike's Run wilderness in the early 1900s as far as you could stick a butcher knife, an area mostly in Gilmer County off State Rt. 7 near Stumptown.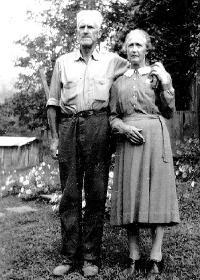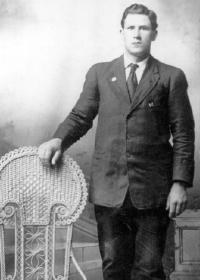 Left, Harley Collins and wife Ruth Stump Collins,
Right, a portrait photo of Harley Collins in early life
"How they grubbed a living from that piece of land, I'll never know," said Norma.
The post office for the area was at Index on Lower Run, a short distance from the Little Kanawha River, near the Calhoun-Gilmer line.
The children walked to the Snake Root School, also known as the Union School, because it rested along Steer Creek near the county lines.
Mike's Run has two forks, both meandering into Gilmer County.
Scottie Westfall, now deceased, who grew up in the holler, said at one time about 15 families resided there. His grandparent's homestead, Frank and Lula Hayhurst Metz, is barely marked by an old cellar (photo above) and a few flowers. The house burned down many years ago.
"As the crow flies, the left fork is not far from Fairview Ridge, and you could hear the Bethel church bell ringing above Rt. 5 on Hattie's Run," said Norma. Fairview Ridge is mostly in Calhoun.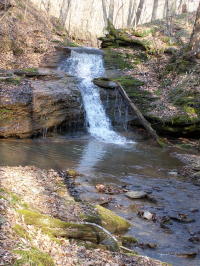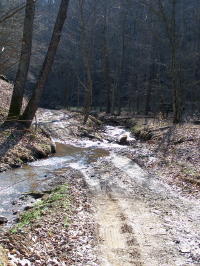 A waterfall on the right fork of Mike's
Run, the narrow road and holler in 2007
"We were never allowed to go up the right fork, because they said moonshiners lived up there. Maybe they said that just to keep us in our holler"
Ruth's great-grandfather was the famous Michael Stump IV.
Harley and Ruth had seven children.
Norma said "Grandma Ruth loved to get out of the holler and go to town. Harley didn't like to leave the farm. Grandpa always said his wife was born in the sign of the feet," she would catch the Greyhound bus on Rt. 7 going to Grantsville.
"Every Saturday she would walk down the hollow, to the main road, about two or three miles, with cream cans in each hand, get on the bus and take them to Grantsville to sell," Norma said.
The road was primitive, often in the creek bed. People mostly used horses and horses with wagons, but sometimes they would catch the mail carrier for a lift to town.
Traveling up Mike's Run yesterday, Norma said it hasn't changed much, just fewer people, and fewer houses.
"A lot of the road is still in the creek," she concluded.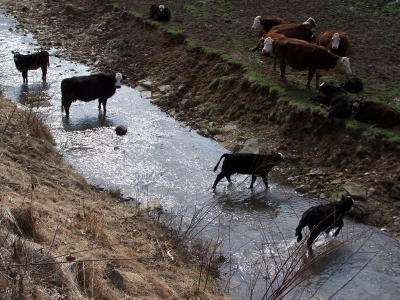 Still, farm life goes on at the mouth of Mike's Run