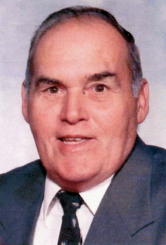 Kenneth Richard Campbell Jr., 68, of Amma, West Virginia died at home on Thursday, March 15, 2007 after a long illness.

He was born on Little Left Hand Road on September 5, 1938 to Olive Carper Campbell Phelps and Kenneth Richard "Hickey" Campbell and raised by his grandparents, Roy and Bertha Carper.

He is survived by his loving wife of 47 years, Shirley June Withrow Campbell; one daughter, June Ann Campbell Stanley (husband Troy David Stanley) of Richmond, VA and two sons, Kenneth Richard Campbell III (wife Martha Mosco Campbell) of Richmond, VA and Roy Allan Campbell (wife Tracy Womack Campbell) of Hurricane, WV.

He is also survived by his six grandchildren; Jonathon Stanley, Bridget Stanley, Amelia Campbell, Joshua Campbell, Katie Campbell, and Kenneth Campbell IV.

Richard was a lifelong member, Sunday school teacher, and Senior Deacon of Bethel Baptist Church of Amma WV. He was a 1958 graduate of Spencer High School. He retired from Columbia Gas after 20 years of service. He was a 46 year member of Linden Lodge #83, A.F. & A.M, and also a member of Tyrian Chapter #13 Royal Arch Masons, Kanawha Commandary #4 Knights Templar, Scottish Rite of Freemasonry, the Beni Kedem Shrine, A.A.N.O.M.S. and the Linden Chapter #152 Order of the Eastern Star.

He was preceded in death by his mother, Olive Phelps; stepfather Roy Phelps, and father Kenneth Campbell.

Funeral service will be held at John H. Taylor Funeral Home, Spencer on Sunday, March 18 at 2:00 p.m. with the Rev. Ora Holbert officiating. Burial, with Masonic graveside rites, will be in the Clover Cemetery, Clover.

Family and friends may call at the funeral home 5-8 p.m. on Saturday, March 17, where an Eastern Star Memorial Service will be conducted at 7 p.m.

Flowers are welcome or in lieu of flowers memorial contributions may be made to HospiceCare, 1143 Dunbar Ave., Dunbar, WV 25064.