REMEMBERING JOSHUA MAC DONALD 1979-1999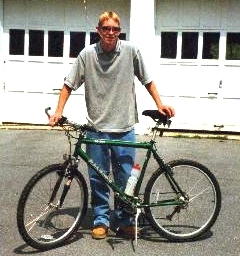 Josh and his most precious worldly possession - a mountain bike
If a man does not keep pace with his companions, perhaps it is because he hears a different drummer. Let him step to the music which he hears, however measured or far away. - Thoreau
By Bob Weaver
It was on February 28, 1999, a Calhoun boy Joshua MacDonald, mysteriously died in Pittsburgh, his body discovered below a second story balcony apartment he shared with two roommates. He was 19.
Pittsburgh police quickly determined that he had jumped or fallen from the balcony, but evidence collected after his death indicated otherwise.
We had talked with him the night of his death.
Josh was at the top of the Calhoun High graduating class of 1998. He decided to go off to the Pittsburgh Art Institute to study industrial art. I took him to catch the Greyhound in Parkersburg in early January, 1999 on a cold and frosty morning.
He was brilliant kid, but a country boy, unwise in the ways of urban life.
Less than sixty days later, he was dead.
Josh was at our home at Hur on many days and nights, sharing meals and being part of our family life for a couple years. He was our son's close friend.
These years later, my son wears a toboggan Josh left behind.
We still sense his presence wandering through the rooms of our house, usually in the silence of late night.
During those quiet hours he would talk about his vision of life, his political views and his desire to live in a world that was better than he found it.
Josh was the quiet type, introspective and very bright. His eyes would always glisten with thought as he contemplated the possibilities.
He would have spells of joyful freedom as he rode his precious mountain bike around Calhoun County, sometimes even riding it to Parkersburg.
His spirit has forever touched our family, his death was a serious loss for our son, who still mourns his passing.
He was laid to rest in a solitary grave at his home on upper Barnes Run, behind the stately house once owned by George Washington Hardman and his descendants, early Calhoun pioneers, farmers and political leaders.
His death is still unsettling with conflicting autopsies presenting a divergent view of the cause of his death. Authorities were quick to close his case.
His mother said these years later, "He was such an exceptional person. Not knowing just what happened, its' been hard to put to rest."
It could be he will never die and be laid to rest, like most of us will be able to do, his spirit alive and present to those who loved him.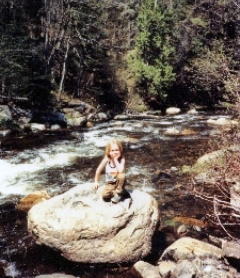 Josh - a lover of nature, animals and the woods
EULOGY BY HIS MOTHER - KATHY MCDONALD

March 13, 1999
Josh was born at home in the green hills of Conestoga, Pennsylvania in the dark morning of August 16, 1979. In his infinite wisdom, he taught his mother on that morning that the spirit and the flesh was transiently one; and has continued to enlighten and educate the attentive and the perceptive throughout his life, and even in his death.
He was a bright, loving and happy child, always laughing and full of life, who loved stories and reading so much that he always requested his blanket be folded in half around him at night, so he could "sleep in the page."
Always a lover of nature, animals and the woods, and bonfires on moonlit nights. He learned creativity and resourcefulness at an early age.
Though occasionally a victim of teenage misjudgment in his deeds, he was a sensitive, compassionate, insightful and gentle person, who openly expressed his love for us in words, his touch and his eyes, even in his sibling exchanges.
He strove in his heart and mind to overlook wrongs or pains put upon him.
His wry, sometimes esoteric sense of humor, served well to all who knew him. He knew his heart and mind well, though he shared those things only with those he truly cared for and trusted.
Capable, willing and strong-willed, he was a true friend and confidante.
Never materialistic, he truly understood what's important - truth, love, levity and those things created by God, not man. - Kathy MacDonald