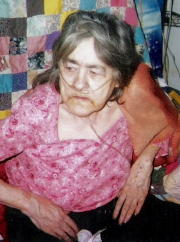 Lena E. Starcher, 66, of Mt. Zion, died Tuesday, February 27, 2007, at Minnie Hamilton Health Care Center, Grantsville.

She was born October 28, 1940, at Cremo, a daughter of the late Lon Husk and Bertha Starcher. In addition to her parents, she was preceded in death by three brothers, Boyd Stutler, Louie Ben Starcher and Harold Starcher; one sister, Geraldine Sturm.

Lena was a homemaker and a former employee of Sav-A-Tool, Grantsville. She had attended the Cremo Community Church, Cremo.

Survivors include her husband of 48 years, Holly D. Starcher; children, Marvin, Brenda and Ronnie Starcher all of Hur, Cleveland and his wife, Cindy Starcher of Parkersburg, Janet and husband, Craig Gherke of Grantsville, Dewayne and his wife, Teresa Starcher also of Grantsville; brothers, Pete Starcher of Phoenix, AZ, Bob Ray Starcher of Oil City, PA, Don Freshour of Spencer; sister, Marge Nester of Mt. Zion; ten grandchildren, Jennifer, Dustin, Jeanette, Brandy, Greg, Brittney, C.J., Sierra, Kathleen and Jessica.

The funeral service will be conducted Sunday, March 4 at 2 p.m. in the Mt. Olive United Methodist Church, Hur, with the Rev. Roger Carter and the Rev. Delmas Stutler officiating. Burial will be in the Starcher Family Cemetery, Hur.

Friends may call at the church Saturday, March 3 from 4 until 8 p.m.

John H. Taylor Funeral Home, Spencer, is in charge of arrangements.