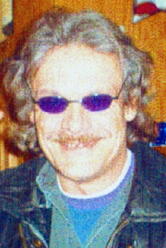 Calvin Leroy Moore, 43, of Walton, WV, died Wednesday, February 21, 2007, in St. Francis Hospital, Charleston.

He was born September 8, 1963, in Charleston, a son of Winford "Jim" and Rosella Larch Moore of Walton.

In addition to his parents, he is survived by one son, Calvin Leroy Moore, Jr. of Cleveland, OH; two brothers and sisters-in-law, Winford "Jim" and Gloria Moore, Jr. of Spencer, Bobby Joe and Ginger Moore of Walton; two sisters and brother-in-law, Mary Ann Ghiassi of Manacha, TX, Sheila Marie and Gary King of Spencer.

Calvin was preceded in death by one daughter, Samantha Moore; paternal grandparents, Riley and Opal V. Moore; maternal grandmother, Ruth Larch.

A funeral service will be conducted Sunday, February 25 at 2:00 p.m. in the Mt. Moriah Baptist Church, Walton, with the Rev. Charles Shafer officiating. Burial will be in the Mt. Moriah Cemetery, Walton.

Friends may call at the John H. Taylor Funeral Home, Spencer, from 6-8 p.m. Saturday, February 24 and at the church one hour prior to the funeral.