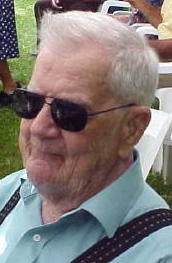 The Rev. Samuel Edgar Cooper, 90, of Creston, W.Va., passed away Feb. 8, 2007, at his residence.

Rev. Cooper was born Feb. 13, 1916, in Creston, the son of the late Sam Cooper and Lucy Webb Cooper. He was a 1935 graduate of Wirt County High School.

Rev. Cooper began preaching in 1959 for the Methodist Church. He was a rural mail carrier for 26 years working the Creston route. He was a member of Big Island Run Methodist Church and a World War II Army veteran.

He is survived by his wife, Peggy Cooper of Creston; two stepsons, James L. Carez and wife, Vicki, of Parkersburg and William C. Carez and Michele of Parkersburg; three stepdaughters, Susan C. Frushour and husband, Richard, of Aiken, S.C., Mary A. Pirayesh of Taylors, S.C., and Helen K. Wells of Parkersburg; one niece, Loretta Boggs of Elizabeth; two nephews, Samuel Depue of Athens, W.Va., and Harold G. Depue Jr. of Franklin, W.Va.; nine stepgrandchildren; and one stepgreat-grandchild.

In addition to his parents, he was preceded in death by one sister, Beulah DePue; and one infant sister.

Services will be 2 p.m. Sunday at Busch-Kimes Funeral Home and Cremation Services, Elizabeth, with the Rev. Delmas Stutler and the Rev. Tim Bell officiating. Visitation will be from 2-4 and 6-8 p.m. Saturday at the funeral home.

Memorials may be made to Housecalls-Hospice at 1601 Garfield Ave., Parkersburg, WV 26101.