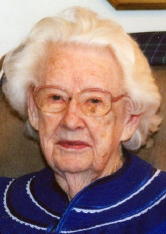 Ruby Carper, 95, of Spencer, West Virginia, formerly of Looneyville, died Thursday, February 8, 2007, at 5:02 a.m., in the Roane General Hospital, Spencer.

Ruby was born February 10, 1911, at Kester, Roane County, a daughter of the late Benjamin Harrison and Eva Dove Westfall Groves. In addition to her parents, she was preceded in death by her husband of 34 years, Cecil Carper; one sister, Lessie Groves Carper; one brother, Skoval J. Groves.

Mrs. Carper was a retired Roane County school teacher with 47 years of service. She was a member of the National Retired Teachers' Association, a graduate of Glenville State College, Glenville and a member of the Epling Chapel Baptist Church, Looneyville.

Survivors include one brother and sister-in-law, Kermit and Juanita Groves of Elkview; nephews, Douglas Allen Groves, Stephen Carper, Jack Groves, Larry Groves, Eddie Bailey and Mike Carper; nieces, Ramanda Sue Douglas and Nancy Fawcett.

A funeral service will be conducted Monday, February 12 at 11:00 a.m. in the John H. Taylor Funeral Home, Spencer, with the Rev. Leon B. Strickland officiating. Burial will be in the Clover Cemetery, Clover.

The family will receive friends at the funeral home after 10:00 a.m. Monday, February 12.