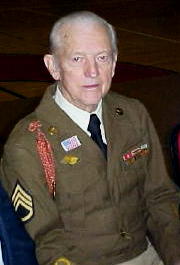 Johnnie Roberts Kuhl, age 88, went home to be with the Lord on January 27, 2007.

John was born June 4, 1918 in Gilmer County, West Virginia, the son of the late Melville and Hattie Tallhammer Kuhl.

On August 13, 1950 he was united in marriage to Wilda Moore Kuhl, whom survives.

John served three and one-half years in the US Air Force, including two and one-half years overseas in England, France, Germany, and Belgium. He earned the rank of Staff Sgt. and graduated from the Air Force Technical School serving as Control Tower Operator. He received the Bronze Star for Meritorious service; was awarded the ETO Medal with five battle stars, Good Conduct Medal, Belgian Fourragere for liberation of Belgium, and the French Jubilee Medal. After discharge from the Air Force, he worked as Operator Senior thirty-six and one-half years for Consolidated Natural Gas Co., located at Jones Compressor Station at Lockney, WV, retiring in 1983.

He was a member, deacon and moderator of the Mt. Pisgah Baptist Church at Stumptown. He also served as teacher, song leader, outdoor griller, and handyman. A most enjoyable portion of his life was spent in gospel singing as a member of the Gospel Tones Quartet. He was a member of the WV Baptist Goldeneer's, Gilmer County Farm Bureau, receiving the Farm Bureau Community Service Award, Gilmer County Senior Center, was the 1st President of Normantown High School Alumni Association, a 4-H Leader, active in the Little League program, and served 21 years on the Gilmer County Ambulance Board.

In addition to his wife Wilda, he is survived by two sons, Michael and wife Diana of Weston, Kenneth and wife Rebecca of Texas; one daughter, Faye Chambers and husband Jay; 7 grandchildren, Erin Kuhl Angner and Jonathan, Adam Kuhl and Angie, Jennifer Chambers Rekos and Greg, Lindsey Chambers Estep and Greg, Hannah Chambers, Brittany and Kortney Kuhl; and two great grandchildren, Rory Michael Angner, and Madaline McKenna Kuhl, also surviving are special relatives, Chester Sholes and Richard Tanner.

In addition to his parents he was preceded in death by four sisters, Flossie Kuhl, Ressie Sholes, Alda Godfrey, and Geraldine Belknap.

Funeral services will be held 11 a.m. Tuesday, January 30 at Mt. Pisgah Baptist Church at Stumptown. Reverends Timothy Underwood and Herbert Smith will officiate. Interment will be in the Collins Community Cemetery at Stumptown.

Friends may call at the church from 2-4 and 6-8 p.m. Monday and one hour prior to services Tuesday.

Stump Funeral Home, Arnoldsburg is in charge of arrangements.