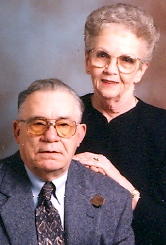 June Miller, 75, of Newton, died Saturday, January 6, 2007, at her home.

She was born June 3, 1931, at Oka, Calhoun County, a daughter of the late Ernest and Martha West Brannon. In addition to her parents, she was preceded in death by a brother, Howard Brannon; and sisters, Mary Ann Rouse and Letha Simons.

June was a retired beautician and was a member of the Newton Baptist Church, Newton, since November 5, 1961.

Survivors include her husband, Okey Miller, whom she married February 19, 1947, in the Newton United Methodist Church parsonage; daughters and sons-in-law, Carrolyn and David O'Neal of Oak Harbor, OH, and Sandra and Delmis Tallman of Newton; son and daughter-in-law, Jarrell and Carolyn Miller of Newton; sisters, Orpha Cottrell of Spencer and Ernestine Keaton of Orma; seven grandchildren and 14 great grandchildren.

A funeral service will be conducted Tuesday, January 9 at 11:00 a.m., in the John H. Taylor Funeral Home, Spencer, with the Rev. Ronald W. Fisher officiating. Burial will be in the Clover Cemetery, Clover.

Friends may call from 2-4 p.m. and 6-8 p.m. Monday at the funeral home.