The following is a reprint from December 25, 2005 by the late Pastor Brian D. Jones.
Pastor Jones passed away September 3, 2008 at his home in Wheeling, West Virginia. Jones was pastoring the Seventh-Day Adventist churches of Wheeling and Weirton, and formerly pastored congregations in Gassaway, Glenville, and Spencer.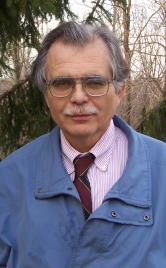 Until May, 2007 Pastor Jones shepherded the Seventh-day Adventist congregations in Spencer, Glenville and Gassaway, WV. He and his wife Elizabeth and daughter Rebekah resided at Chloe, Calhoun County, WV.
Pastor Jones served in several Seventh-day Adventist conferences including Chesapeake, Nevada-Utah, Upper Columbia, Washington and Mountain View where he was the communications director. He had been a chaplain at the Wildwood Hospital in Georgia; served on the staff of the Amazing Facts radio program; spoke on the WWVA Sword of the Spirit radio program; and was the author of six books and principle contributor for three Sabbath School Quarterlies, published by the General Conference of Seventh-day Adventists.
"We Have Seen His Star" Matthew 2:1-15
A Meditation On Christ's Nativity
Jesus born in Bethlehem, situated in a valley about six miles south of Jerusalem. Bethlehem means house of bread. Christ is the living bread come down from heaven. Jn. 6:32-37, 51-63.
Who sought Him? Wise men from the East (probably from Persia). Who were they? Magi, who were philosophers, students of science and sacred writings. Fascinated by the heavens. Theirs was no earth-bound vision, tied to things that perish with the using. We should keep our sights directed ever upward too. These particular Magi were men of integrity and wisdom. They hungered and thirsted for truth. God led them to the House of Bread, where the Bread of Life was born for the Sustenance and Salvation of mankind.
What guided them? A star (company of angels) See Job. 38:7; Rev. 1:20. But they were not exclusively dependent on a sign and wonder (any more than we should be). They studied the sacred scrolls. How did these scrolls come to their notice? Daniel had served in the courts of Babylon and Medo-Persia. Ezra the faithful, learned Jewish scribe had also dwelt and mingled with the wise men of Medo-Persia. Some of the guiding texts that illuminated the minds and ignited the hopes of the wise men were Num. 24:17; Dan. 9:24,25, and Mic. 5:1-5.
What Kind of Ruler Did They Come to Worship? Isa. 7:14; 9:6,7; 11:9b,10; Ps. 72; Zech. 9:9,10. One Who is righteous, holy, pure, humble, compassionate, without a shadow of despotism or hypocrisy.
A painful irony: Priests and scribes knew the truth (Bible geography, Bible prophecy, Bible theology), but were disquieted by their knowledge. Their fear: "Oh, no, could it be that the Messiah has come? This greatly interferes with our plans. We want religion; we wish to be religious rulers, but we don't want to have to submit to God's authority. Especially do we not wish to worship a Messiah who comes in humble garb, born of the peasant class." Thus they started out on a course of opposition that was to culminate in Calvary. Is there a warning here for us?
As for Herod, -- the worldly great who revel in their carnal fame and power are steadfast opponents of divine righteousness, truth and redemption. Thus it has always been and thus it shall continue to be until the final eradication of all evil at the executive judgment. Self-exalting, covetous religionists, regard God is a complete intruder, a feared competitor for the affections and loyalty of others. They ruthlessly scheme to retain their power and die miserable deaths, as Herod did.
What the wise men did. Bowed down and worshiped Jesus, infant though He was at that time. Isa. 49:7,23. "Only those who are kingly themselves can properly honor the kingliest." Phillips Brooks. All who bow down to Him in heaven will do so in their capacity as kings and queens who have been saved and transformed by His sovereign love, and have Him and His truth reigning in their hearts. Rev. 1:5,6; 5:8-10; 20:4; 22:24 (Isa. 26:2,3). Under the Spirit's direction the Magi gave Jesus royal gifts. They listened to God, who warned them in a dream to return home by another way.
Why they got the benefit of God's guidance: They were devout students of Bible prophecy. Num. 24:17; Dan. 12:10; Jer. 29:13; 33:3; Jn. 1:9-13. They prized the Light and walked in the Light. Rom. 8:14. "For the Scripture hath said, Whosoever believeth on Him shall not be ashamed. For there is no difference between the Jew and the Greek: for the same Lord over all is rich unto all that call upon Him" Rom. 10:11,12, cf. 3:22 - what a program of universally available benevolence! God has no prejudice and no favoritism. But He does favor saving all of us. Iraqis, Iranians, Libyans, Americans and people of every nationality, as well as those of no recognized nation.
The Wise men are a type of the redeemed: Matt. 8:10-12; Isa. 60:1-8; 62:1-7; Hab. 2:14. How we can get the benefit: Ps. 132:4-8, 13-15: 2 Pet. 1:19-21. What the outcome will be for the world. Rev. 18:1; Rev. 7:1-9; 14:6,7,14; 21:24-26; 11:15; 22:1-5. Infinite glory in the day of Christ's second coming and throughout ensuing ages.