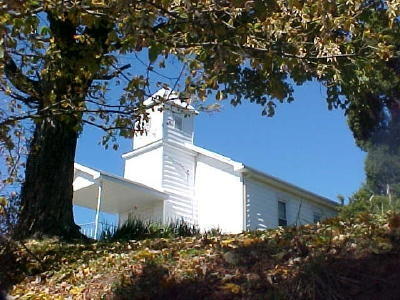 By Bob Weaver
The Mt. Olive United Methodist church at Hur has a history going back to 1879, with the nearby cemetery having burials before the Civil War, with the early graves marked with field stones.
The church was first held in a log cabin at the backside of the cemetery, described by my grandmother Mary Virginia Riggs McCoy, as an unheated building during its early years.
The formal organization of the church started in 1883 with the execution of a deed for the property from Levi and Ella Gainer to the Methodist Protestant Church for seventy-five cents.
Methodist protestant clergyman Rev. Joseph Dunn was instrumental in its origin, among a number of other churches he helped start across the countryside, later known as the Richardson Circuit.
The Mt. Olive Church has been associated with circuit churches at Richardson, Walnut Grove (Barnes Run), Cremo, Stony Point, Bryner Chapel (Joker), Sand Ridge, St. Paul, Dry Hill on Egypt Ridge(referred to as the Bluehead Church, started by Billy Bluehead Starcher) and Pup Run, the latter two being in Roane County.
The strongest connection has been an association with the Mt. Zion Church.
The original log church was replaced by hewn wood and clapboard structure about 1900, described by Mary Virginia Riggs McCoy as "The most crooked building I've ever seen."
It was torn down and replaced by the present structure about 1924 under the auspices of S. Joseph Riggs, a building which has been remodeled over the years.
In 1918 local merchant and politician Will Sturm donated a small parcel of land for the construction of a five-room parsonage at the upper end of the village, which was connected by a board walk.
The village once had three stores, two grist mills, a post office, IOOF lodge hall, telephone office, one-room school and a few houses.
A few of the clergymen who served over the years were, C. Dorsey Miller, Noble Crew, Charles Wilkinson, Gayle McHenry, Harley Bender, John Geiger, Robert Duskey, Bryan Kendall, Brad McBee and the 55-year tenure of Glendon McKee. The pastor at the time of closure was Rick Swearengin.
The church was officially closed and sold by the United Methodist Church, and has been variously opened by community groups, but is now available for funerals and weddings.
See also SUNNY CAL JOURNAL - "Who Will Sing For Me"