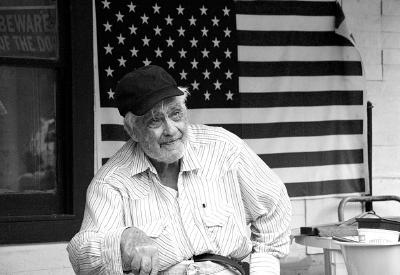 Arnold Ray Norman
(Photo by Chet Dowell)
By Bob Weaver
Not unlike a number of other Calhoun folk etched deeply in my recollections, is Arnold Ray Norman.
"Haven't left (Calhoun) any more than I can get by with," he said, when photographer Chet Dowell and I visited him last May.
Arnold' presence always stirred me, his quiet life in a deep hollow, those long silences that allowed him time to reflect on the smallest of life's events.
Interests attached to a time that has faded, punctuated by watching auctions, horse shows and Jerry Springer on satellite TV.
For those of us who live much more complicated lives, it always seems refreshing, inviting.
Now Arnold has passed at age 83.
See "Arnold Fires Up His Mule"
He died October 9, 2006 at Stonewall Jackson Memorial Hospital, after a lengthy illness.
He was a farmer and attended Fairview Union Church.
He was the son of the late Issac Homer and Lula Brannon Norman of Beech, on whose farm he spent most of his life.
Arnold is survived by sister Pearl Conrad and brother Orville Norman, both of Orma, an aunt Zadia Greathouse of Richwood and several nieces and nephews.
He was preceded in death by brothers Bunker, Issac Jr. and William Norman; sisters, Murl and Irene Norman and Ona Helmick.
Funeral services will be held 3 p.m. Friday at Stump Funeral Home in Arnoldsburg. Friends may call two hours prior the funeral.
Burial will be in the Norman Family Cemetery at Beech.