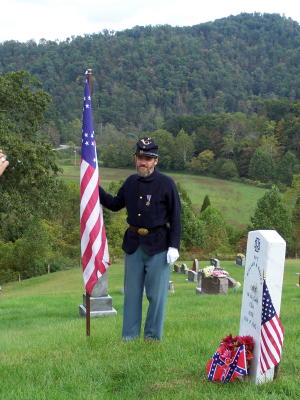 On the hill above the West Fork of the Little
Kanawha, Civil War reenactor Mike Myers stands
next to Pvt. William A. Bailey's newly marked grave
2006 - A Calhoun Confederate soldier got his monument yesterday, at long last, replacing a flagstone with his initials.
Pvt. William A. Bailey (1839-1910) served in the 14th Virginia Calvary from 1862-1865 and was captured by Union troops and sent to prison in Point Lookout, Maryland.
The US government marker, obtained through the efforts of the late Chloe resident Ann Newell, was dedicated at the Prudence Chapel Cemetery at Minnora.
Resting in the cemetery on the hill above the West Fork of the Little Kanawha are several hundred of Calhoun's earliest citizens, including soldiers from the Civil War to present day.
A number of Bailey's descendants attended the
ceremony, including Scott Bailey (2nd from left) of Chloe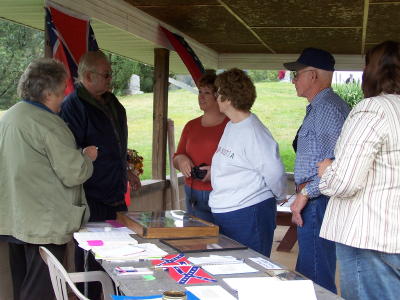 Ann Newell (left), who organized the memorial, greets visitors to the event
He was the son of John and Permelia Bailey. John Bailey was also in the war (1861-1865) and is buried on Blown Timber near Milo.
After the war, William returned to his family in Calhoun. He was married to Elizabeth Helmick in 1855, they were the parents of William Henry, Matilda Ann, John J., Sabra Ellen, Samuel Floyd, Robert L. and Doddridge Bailey.
William's wife, Elizabeth, died in 1871 he later married Sarah Emma Haverty. Their children were Silas, Bessie, Rosa and Melissa Bailey.
Related families in Calhoun: Bailey, King, Deweese, Ross, Jarvis, Conley, George, Boggs and Ater.
Scott Bailey of Minnora is a 4th generation descendant of William A. Bailey, and is still living in Calhoun. His children are John (deceased), Sharon Groves of Orville Ohio, Joyce Meek of Lexington Kentucky and Martha Park of Minnora.
Scott is married to Edith Gae Hoover Bailey, they've been married 59 years, living their entire life near Minnora. They have 10 grandchildren and five great-grandchildren.
Newell said the next marker will hopefully be for Civil War soldier William Henry Lowers. who was killed near Minnora in 1865.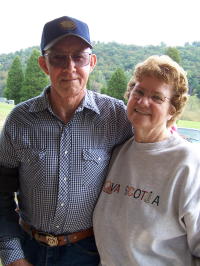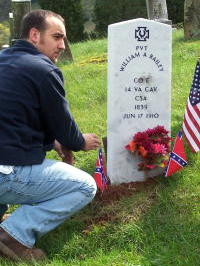 L - Shade and Lottie Bailey of Warren Ohio, he is the great-
grandson of Pvt. Bailey and son of Smith Bailey, attended ceremony;
R - Joey Parks of Chloe honors solider with the placing of flags