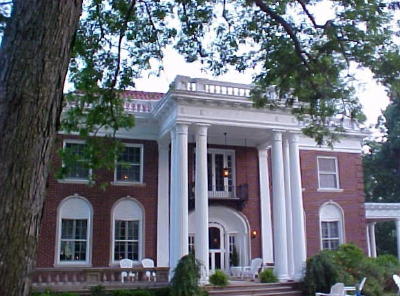 The McIntosh Mansion is a treasure in the Town of Spencer
Regional residents know it as the "mansion on the hill."
Spencer's McIntosh Mansion is on the National Historic Register, and has been a popular place for special occasions, weddings, meetings and family reunions.
The mansion has now been sold to the Freshwater family.
The stately house and property was originally known as "Sylvanius," built in 1926 by Albert Heck, and a mansion it was.
It was once known as Bowman's Grove, a public picnic site in the late 1800's, located on a hill overlooking the fledgling Town of Spencer.
During the roaring twenties the land was purchased by oil and gas wildcatter and railroad company investor Albert Heck.
The mansion incorporated the latest technological advances, with numerous structural and aesthetic features worthy of some of America's greatest homes.
Trees, ponds and lots of lawn surrounds the stately mansion
Heck succumbed to the great depression and the property was sold to the F. F. McIntosh family in 1936.
Today the elegant and stately structure sits on wooded and pastoral grounds and has been known as the McIntosh Mansion for 80 years.
The early days of the mansion have been recorded in "The House on a Hill," by Carol Evelyn Heck Turner, the daughter of Albert Heck. It is a memorable account of the lives of people in rural West Virginia, and the rise and fall of the Heck family fortune.
The McIntosh family used the mansion for the operation of F. F. McIntosh and Son, nationally prominent breeders of purebred Hereford cattle, in addition to their oil and gas interests.