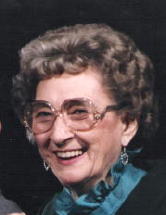 Wilma Rebecca Howell Roach, 92, of Grantsville, Pleasant Hill Community, passed away July 11, 2006, at Camden-Clark Memorial Hospital.

Born in Preston County, March 21, 1914, she was a daughter of the late David Alison and Louisa Jane Martin Harned. She was a member of the Pleasant Hill United Methodist Church and was a homemaker. She enjoyed and appreciated the friendship and love shown to her by her many friends and neighbors.

Surviving are her two sons, Drexal Howell, and his wife, Diane, of Morgantown and David Howell and his wife, Loretta, of Vienna; 15 grandchildren; and 12 great-grandchildren.

She was preceded in death by her first husband, Harry Howell in 1979; her second husband, Ray Roach in 1989; and a son, Melvin R. Howell.

Funeral services were held Friday, July 14 at Browning Funeral Home in Kingwood, West Virginia.