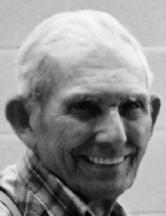 Joseph Orland Ashley, Jr., 81, beloved husband, father and grandfather, went home to be with the Lord on July 16, 2006.

Born June 7, 1925, in Reedy, West Virginia, to the late Joe O. and Virginia Grant Ashley, he spent 36 years living in Norton, OH. He retired after 36 years as a general foreman at the Akron Barberton Belt Railroad and returned to his childhood home in Reedy.

Joseph was a World War II veteran and served in the Army infantry in the South Pacific. Joseph received the Purple Heart for his service. He was a member of the Purple Heart Club, the American Legion and the Farm Bureau. He loved working in his garden. He and his family ran a successful truck gardening business in the 60's and 70's. Joseph was an avid outdoorsman.

In addition to his parents, he was preceded in death by his brothers, Dale, Robert, Jess and Blaine Ashley; sisters, Myrtle Ashley, Stella Ross and Carrie Benson; grandson, Joseph Allen Ashley; son-in-law, Michael Ray Fleisher.

Survivors include his wife of 55 years, Helen Meglich Ashley of Reedy; daughter, Linda June of Coventry, OH, sons and daughters-in-law, Daniel, Sr. and Vicki of Spencer, Les and Debbie of Doylestown, OH, James and Lyneen of Reedy; grandchildren, Nancy (Jim), Amy (Jeff), Nicole (David), Daniel, Jr. (Dawn), Michael, Kristy (Scott), Benjamin (Kati), Robert; great grandchildren, whom he especially adored, Jaret, Nathan, Cameron, Jimmy, Carter, Ashley, Matthew, Bryan, Alaena; sisters, Donna Meglich and Florene (Oren) Walker.

He will be deeply missed by all whom he leaves behind.

"Whereas ye know not what shall be on the morrow. For what is your life? It is even a vapour, that appeareth for a little time, and then vanisheth away." James 4:14

A funeral service was conducted Thursday, July 20th in the John H. Taylor Funeral Home, Spencer, with the Rev. Michael F. "Mike" King officiating. Burial, with military graveside rites, was in the Fox Cemetery, Reedy.