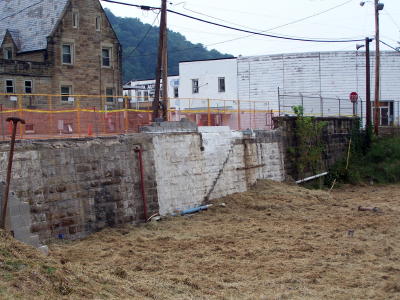 Since the demolition of the old town hall and fire house, more
cut stone walls built during the Great Depression are exposed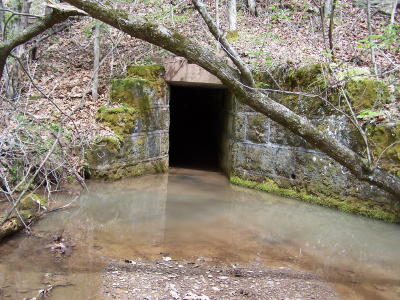 A 300 foot long, four by four foot culvert under the
large fill on the east side of Nighcut Hill on Rt. 5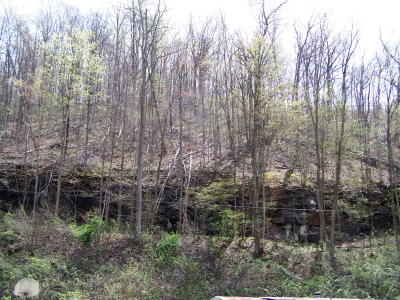 A stone quarry on Barnes Run, one of many in the county, provided
stone for highways and walls during the Great Depression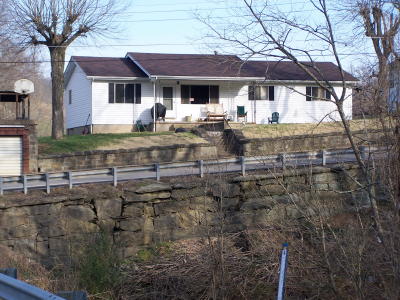 Grantsville's High Street was made possible by the support of stone walls
By Bob Weaver 2003
Hundreds of unemployed Calhoun men, suffering the pang of the Great Depression, were given steady employment to work for the WPA, making public improvements in county.
They constructed stone walls, erected buildings, completed school projects and napped rock into the unimproved mud roads.
The projects involved native rock.
The face of Grantsville, the county seat, was changed forever with the erection of cut-stone walls, an architecture that has lasted into the 21st Century.
One of the cut stone projects was recently razed, the former Stump Service Station on High Street, a project of Spanish stonecutter Joe Janerio.
Numerous other cut-stone projects can be found around the county.
A dedicated project, the native stone retaining walls along the approaches to the town, include hidden ones that have stabilized the streets these past 80 years.
The Calhoun Chronicle reported in 1936 that the Grantsville street project is "attracting attention and favorable comment by thousands of passing motorists."
"The erection of these retaining walls to prevent landslides has made possible the construction of hard-surfaced streets and the general improvements of the sewer system in Grantsville," the paper reported.
Former Grantsville native David Hathaway recalls the construction of the stoneworks.
"I have vivid memories of sitting under the great maple tree in the yard of my grandfather Dr. W. T. W. Dye and watching the wall building on Main Street," he said.
Spanish-speaking Joe R. Janerio and his brother oversaw much of the work, often with a Spanish crew that could speak little English.
"I was ten-years-old, getting acquainted with a young Spanish worker named Manuel, who taught me a few words of Spanish. It contributed to my desire to learn foreign languages, which proved rewarding over the years," said Hathaway.
Janerio's trade mark was the white dressing in the mortar joints, he said.
Private stonemasons also built houses using native stone.
Arma M. Swain of Marietta, Ohio said her grandfather, Frank A. Morrison, built a house on Coal Fork (up the holler from Freed) with the entire first floor made of cut stone. "My Father told me the stone was quarried on the farm. I think it is a work of art," she said.
Such stone projects have been rare in the county since those depression years.
See ... IF WALLS COULD TALK - The Fruits Of Labor In The Great Depression
Check JANERIO using search, which will include his only photo, resting in a casket