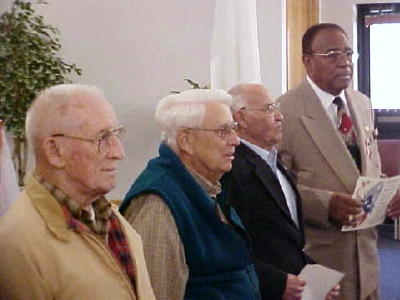 Morrison was honored in 2003 at Victory Baptist Church for his service to America (left to right) Glen Dye, Bill Morrison, Layman Godfrey and Walter Truss
Well-known community servant, volunteer and pharmacist, William Bailey "Bill" Morrison, died on Father's Day, June 18.
He was 86.
Morrison came to Grantsville in 1950 to be a pharmacist for a long-time Calhoun business, the J & B Rexall Drug Store, and stayed in that capacity for 50 years.
Known for his friendly smile and willingness to help, Morrison was not only dutiful to his job, but served on numerous boards and engaged in civic activities.
Funeral services are scheduled for Wednesday, June 21 at 1 p.m. at Stump Funeral Home in Grantsville, with the Revs. Mike Worf, Carroll McCauley and Chuck McDonald officiating. Interment will be in the Morrison United Methodist Church Cemetery at Sutton.
Friends may call at the funeral home from 6-9 p.m. Tuesday.
He was the son of the late Alpheus L. and Annie Morrison of Sutton.
Shortly after graduating from West Virginia Wesleyan College with a degree in chemistry, he enlisted in the US Marine Corps.
He served as an ordinance officer in the South Pacific and was honorably discharged with the rank of Captain in 1946. After leaving the military, he enrolled in the University of Sciences in Philadelphia, where he obtained a degree in pharmacy.
In 1945 he married his college sweetheart, Laura Adelle Ford, who preceded him in death.
He served on the Little Kanawha Resource and Conservation and Development Committee as chairman for many years, was on the board of Calhoun General Hospital and was a former chairman of the March of Dimes.
He was also a member of the Eureka Lodge #40, Scottish Rites, Shiners and the WV State Pharmaceutical Association.
Surviving are his children, Susan (Donald) Pitts of Grantsville, William G. Morrison of Cross Lanes; a brother, Robert J. Morrison of Sutton; grandchildren, Erin Pitts of Birmingham AL, Beau and Ryan Pitts Guest and Katie Pitts of Charlotte NC, Josh and Sarah Morrison Hacker of Glenville and William Patrick Morrison of Fairmont.