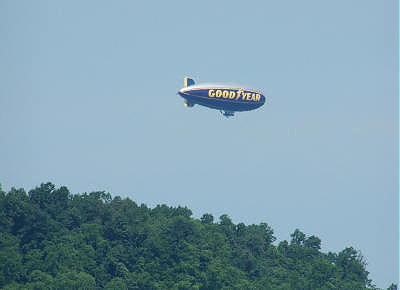 For over 80 years, Goodyear blimps have adorned the skies of the USA, and Saturday one of them crossed Calhoun County, traveling just west of the Arnoldsburg Community Building.
These graceful giants travel more than 100,000 miles per year across the country.
The blimp tradition began in 1925 when Goodyear built its first helium-filled public relations airship, the Pilgrim. The tire company painted its name on the side and began barnstorming.
The air-ship appeared to be moving slowly down the West Fork over the Little Kanawha, with efforts to catch-up for a better close-up proving futile.
During World War II many of the Goodyear-built airships provided the U.S. Navy with a unique aerial surveillance capability.
2006