LEE JONES IS NOW DECEASED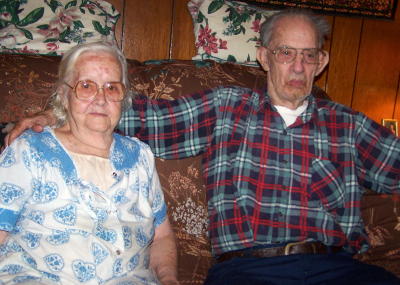 Edith and Lee Jones recall his military days
By Bob Weaver
2001 - Twenty-five-year-old Lee Jones had traveled but a few times from his native hills, but in 1941 he entered the US Army, one of the first soldiers to go to World War II from Calhoun.
Now, at age 90, the long-time Yellow Creek resident, will receive his overdue medals, eleven in all, that he earned in that great conflict.
A ceremony is planned for June 21st at 6 p.m. at the Big Bend Post Office, organized by his son Michael Myers.
"I've never forgotten what happened to me during the war, but I did forget about not receiving my medals. I was a prisoner of war when the gates sprung open," he said, "The war was over and I just wanted to get home."
He had married his Calhoun sweetheart Edith Eagle on a furlough in 1944, then returned to the front lines only to be captured.
He was held at least four months in a POW camp with 30 other Americans. "They treated us like dogs. I thought I was going to die there," Jones said.
His capture came after the 242nd Infantry engaged in the Battle of the Rhineland.
Jones said he and his captors scavenged for food, often going to a train car during bitter snows to get sugar beets, eating them raw.
"We never got a one of those Red Cross food boxes. They stole them all," the Germans kept food in locked stores. He recalled a captor running full-steam through a plate glass store window, to make entry, receiving severe cuts, but quickly discovering a barrel of apple butter.
Suffering from malnutrition, "They cracked open the top and dipped out apple butter by the hands full," said Jones.
When the prisoners were released from the camp in 1945, other soldiers gave them guns and told them to kill their captors, "But we knew it was not the right thing do, we ran over the guns with a tank."
Jones said his group took over a hotel and slept on feather ticks, after months of sleeping on boards. "We found beef in the kitchen and fried it to eat," he said. "It sure did taste good."
"You can't imagine what it was like, those were rewards," he said, "Things that we all take for granted."
An officer told the POWs how they should eat after being rescued and malnourished.
"People back here don't know what war is like, if they haven't been there" he said.
Next Wednesday, the old Calhoun soldier will be recognized.
THE JONES FAMILY
Jones and his wife, who is 85, live in the same house, and enjoy their family and friends, they've been married 62 years. They have two living daughters, Sharon Miller of Sugar Camp and Laura Marks of Big Bend, and a son Michael Myers of Annamoriah. A daughter, Linda Keller, died in 2002.
Jones' wife, Edith Eagle, grew up in the next hollow up Yellow Creek.
Jones worked for the State Road, Okmar Oil and for Alfred Holbert on a sawmill.
He is the son of late John and Samantha Kirby Jones, and has three living sisters, Alice Richards of Yellow Creek, Mary Jones of Leading Creek, and Alma Lanham of Glenville; a brother Willard of California and Harley, deceased.
Pfc. Lee R. Jones belonged to the US Army, Co. E 242nd Infantry.