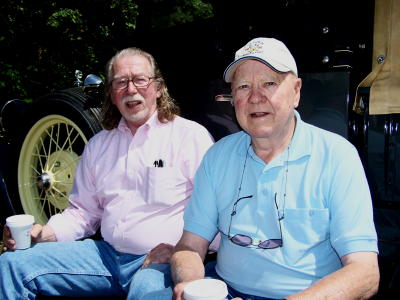 Ed Tindall (left) and Bill Orth (right) are "having a wonderful time"...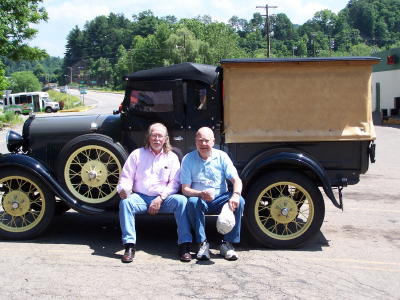 ... taking their 1929 Ford on a wandering road trip
By Bob Weaver 6/2006
Ed Tindall and Bill Orth had already been through four states since they left Stockton, NJ last Friday when they arrived in Grantsville yesterday. The duo stopped for lunch at Foodland.
Their mode of travel - a 1929 Ford truck, which has been handsomely restored during the past five years.
"It reaches a top speed of 45-50 mph," said Ed, who said he and his friend were already enjoying their wandering trip in the antique vehicle.
"One thing we've really enjoyed is the friendliness of the people in West Virginia, they come over and want to talk," Ed said.
Bill said they have no real schedule for their road trip, but for now they're going south on State Route 16 toward Beckley.
While the men admitted the "ride was a little rough" compared to modern cars, saying so far the 4-cylinder was running slick.
The biggest conversion on the car was installing a 12-volt system, which has really helped the starting and running.
"The gas mileage is really poor on these old cars, they're guzzlers," said Bill, getting less than 15-miles-per-gallon.
"The boys in the coffee shop will read this back home," said Ed, "They've got a map and pins tracking our journey."