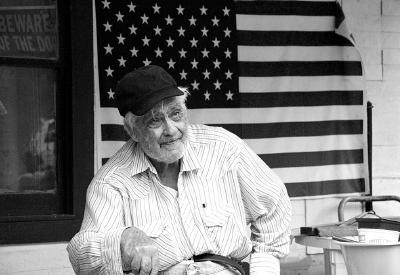 Arnold says "Haven't left any more than you can get by with"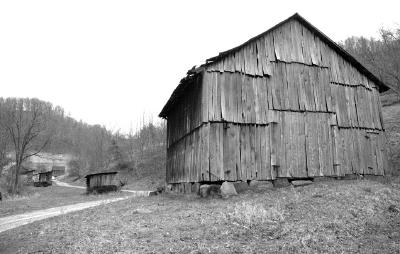 Remaining are 13 buildings - one for every need
still standing in the peaceful hollow
By Bob Weaver 2006
Photographs by Chet Dowell
"We used to keep cows, horses, sheep, mules and hogs," said Arnold Norman, who lives in a deep hollow on his peaceful 177-acre ancestral farm, sheltered by high hills on three sides.
Now 82 and living alone, he keeps the silence and memories of the self-sustaining farm. "I don't have much company," he says, sitting on his prized possession a motorized "mule."
He fires up the "mule" about every day and rides down to the mouth of the holler to get the mail.
"Sometimes the woman who comes and helps me gets the mail, if I'm not feeling too good," he said.
There are 13 buildings close to the old farm house where he has spent nearly all his life, a building for every purpose.
There are corn cribs, outhouses, cellars, barns, sheds and a blacksmith shop, most of them unused for the purpose of their design.
"We kept all these hillsides clear," Arnold said, pointing up the steep mountain toward the Norman family cemetery on a distant ridge between Beech and Rush Run. Arnold walked and went to the one-room school over on Rush, long closed.
"My dad and mom are buried up there," referring to Homer and Lula Brannon Norman. His grandparents Issac Norman (1851-1923) and grandmother Judith (1855-1946) were the early-comers.
Arnold is one of nine children.
"Haven't left any more than you can get by with," his longest trip away from home was over in Ohio a time or two, although "I did go over in Roane County to get married for a year-and-a-half once."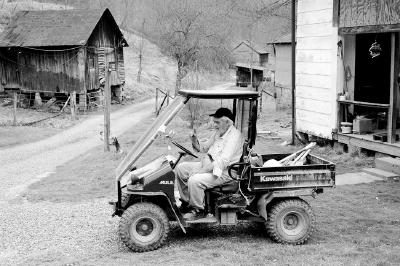 Arnold rides his "mule" down to the mouth of the holler to get his mail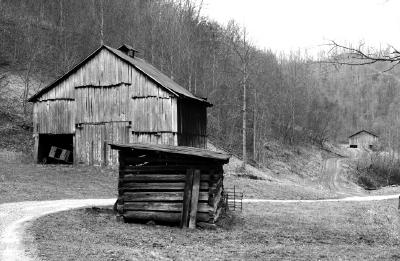 The Norman farm still uses barns for hay storage
"I got a satellite TV," watching his favorite channel RFD-TV, which broadcasts auctions and stories about farm life. He also likes the Jerry Springer Show.
"Jack and Janet (Marks) helps me with things," referring to his niece and her husband.
Arnold said it took him 50 years to be admitted to a hospital in 1972. "Now, I've got all kinds of things wrong with me. Can hardly get around," he said.
The friendly old farmer says he likes to get trinkets, things that make a noise and light up.
"You have to make your own excitement around here," he concluded.
POSTCRIPT: Since the story was written, Arnold has died.