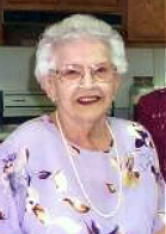 Zelda "Tag" Siers, 88 of Vienna, formerly of Grantsville, West Virginia, passed away Tuesday night, February 28, 2006 at St. Joseph's Hospital, Parkersburg following a long illness.

She was born August 25, 1917 in Grantsville to the late Oscar "Bunt" and Leodie Bennett Hathaway. Surviving are two daughters, Carolyn Hathaway and Debbie Siers of Vienna; one brother, Gale and his wife Virginia of Spencer; several nieces and nephews; and her faithful companion, Tiger Baby.

In addition to her parents she was preceded in death by her husband, Rector, who died October 19, 1973; two brothers, Roma and Lewis "Jake"; two sisters, Veta Linville and Glena Vannoy.

"Tag" attended Mt. Zion United Methodist Church, where she taught the Young Adult Sunday school class for several years. She was a Charter Member of the Women's Society of Christian Services.

She was homemaker and caregiver for her mother and father, was active in the NYA organization, worked at several establishments in Grantsville, was an Avon representative in Calhoun and Wood counties for over forty-nine years, and worked at Dil's Department Store in Parkersburg. She was an active supporter of 4-H, Band Boosters and Rose Theta Rho Girls Club.

She joined the Grantsville Rebekah Lodge on June 12, 1959 serving in all of the local offices, including, Noble Grand for over twenty-five years. She received several state-wide appointments. She received the Decoration of Chivalry Jewel, the highest award given to Rebekah's. Her most outstanding achievement was holding the distinction of being West Virginia's only mother of two Past Presidents of the Rebekah Assembly.

During her Lodge service Zelda was privileged to travel to many International meetings with her daughters. She served as Past District Deputy President for Districts 7 and 16, was Past President of the Ladies Auxiliary Patriarchs Militant of Parkersburg and Past President of the Department Association of WV.

"Tag" was a most loving and caring person. She aided many in need, often giving free assistance from her many sponsored yard sales. Her daughters will always remember her 80th birthday celebration, when she requested no gifts, but asked each person attending to bring canned goods which she donated to the Calhoun Food Pantry.

She loved WVU football, making several trips to Morgantown and many Bowl games. She enjoyed making apple butter with her Rebekah Lodge members and her yard sales where she renewed acquaintances with her many Calhoun friends. She was a faithful supporter of the Hathaway Reunion.

Funeral services will be 11 a.m. Saturday, March 4 at Stump Funeral Home, Grantsville with Reverend David Weaver officiating. Interment will be in Bethlehem Cemetery.

Friends may call from 6 to 8 p.m. Friday at the funeral home, where a Rebekah Memorial service will be held at 7 p.m.