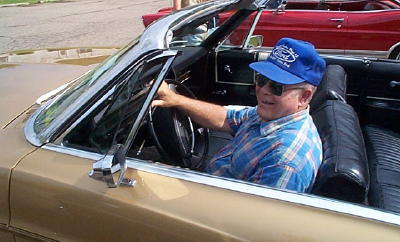 Coleman in his '68 Ford Galaxy
Coleman Gene Burrows passed away at the age of 72 on February 6, 2006.
Gene retired from Ford Motor Company in Brookpark, Ohio in December 1986. Upon retirement he moved back to Grantsville with his wife Katheryn Dale.
He is survived by three daughters, Wanda Gail Warfield of Mogadore, Ohio, Sandra Dale Roznovsky and husband, Rick of Stony Point, North Carolina, and Leah June Cheyney and husband Max of Brunswick, Ohio.
They are also survived by 6 grandchildren, Amanda Watkins and husband Bryan, Grant Warfield, Ryan and Cassandra Roznovsky, and Corrina and Jesse Cheyney.
Gene is survived by his sister, Ernestine Gainer. He was preceded in death by his parents, James Spencer and Delta A. Starcher Burrows; brother, Howard Burrows, and a sister Dena Plant.
He was a member of Pleasant Hill United Methodist Church.
He was on the board of directors of Minnie Hamilton Health Care Center for 8 years and has served as Vice President since 2003, and served on numerous committees.
He was proud to drive the Disabled American Veterans Van since its inception in 1998 and has logged over 10,000 miles.
Gene enjoyed hunting, camping classic cars, gardening, volunteering and was an all around ornery instigator.
In lieu of flowers the family is requesting memorials may be sent to the American Heart Association, American Diabetes Association, or American Cancer Society.
Funeral services will be held 11 a.m. Saturday, February 11 at Stump Funeral Home, Grantsville. Reverends Rick Metheney and John Glesner will officiate. Interment will be in the Pleasant Hill Cemetery, Grantsville.
Visitation will be held Friday evening from 4 to 8 p.m. at the funeral home.