FITZWATER MADE A MIRACULOUS RECOVERY FROM THE SERIOUS TRAUMA

JULY 3, 2001

Fifteen-year-old Ryan "Goob" Fitzwater of Hur underwent emergency surgery last night at Charleston General Hospital from injuries received Monday after a farm tractor rolled on him near the Village of Hur.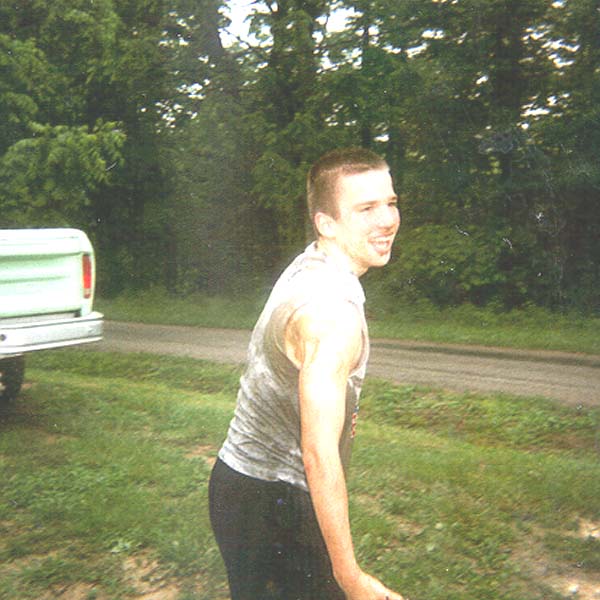 "Goob" happily celebrating his 14th birthday last year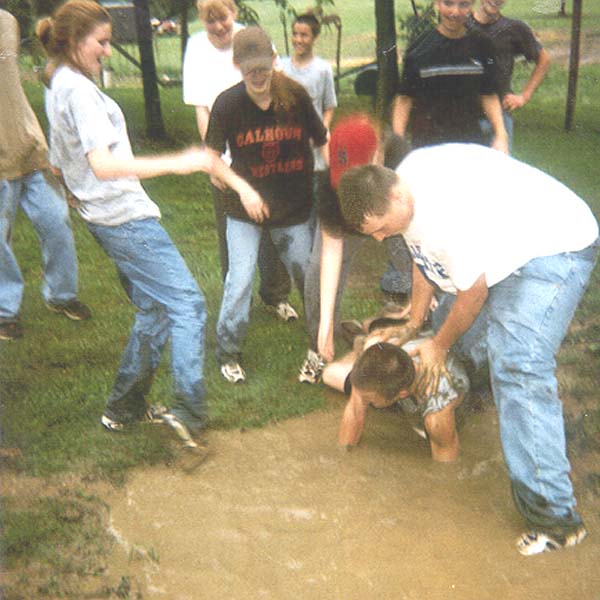 Friends toss "Goob" in a mud puddle during birthday celebration
Larry Robinson, the youth's uncle, said he was given eight pints of blood after hemorrhaging from a severe wound on his buttock. Doctors advised the family his pelvis was crushed, and he will require multiple surgeries to correct the problem.
Rick Fitzwater, Ryan's dad, is requesting the donation of blood to the American Red Cross. Donors should advise the agency the blood is donated in the youth's name.
The tractor reportedly rolled over backwards on the youth in a remote meadow off the Hur-Pine Creek Road. The property was originally the old Hardman farm. Rick Fitzwater and sons Ryan and Michael were completing a hay job when the tractor overturned. "Rick somehow got the tractor off Goob," said Robinson, as Michael ran about two miles around the the ridge to call 911.
The elder Fitzwater managed to place his son in a bucket on front of a farm tractor, bringing him to the Charles and Phyllis Kerby residence, where EMS was summoned. He was administered emergency treatment and taken to Minnie Hamilton Hamilton Health Care Center in Grantsville, after which he was taken by chopper to Charleston.
Rick Fitzwater, who is President of the Calhoun County Board of Education and a manager for Calhoun Banks, said his parents, Shirley and Faye Fitzwater had just arrived in Virginia Beach on vacation. They were expected to return to Charleston to join the the family.
Rev. Bob Nicholas of the First Baptist Church asked for prayers for "Goob" from all residents of the county and readers of The Hur Herald around the country. The Herald has received numerous phone calls inquiring about the youths condition.
Goob's condition has required that he receive several pints of blood. Donating, is a way for friends, neighbors and community to say thank you for life-saving blood.