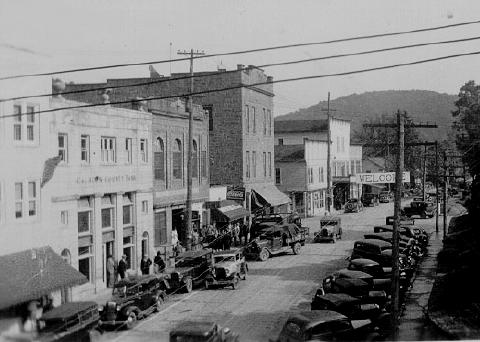 During the farming era, Grantsville was a bustling town,
shown here is Main Street 1937
EDITORS NOTE: David Hathaway, a frequent contributor to the Herald, passed in 2010.
By David B. Hathaway 2006
Growing up in Calhoun County in the 30's and early 40's, I was always interested in music, photography and things electrical.
The term electronics was not in common use then.
My good friend Bobby Riggs had moved to Charleston with his family, but he always kept me on the cutting edge of things scientific.
In recent years I have seen the rapid evolution of technology leaving me in its wake, and I no longer seem to have the drive to keep abreast of everything.
While there are many stories regarding my experiences, one has been prominent in my memory of late, especially regarding the development of the DVD vs. heavy reels and cans of movie film.
Many older residents will remember when John and Helen Cook owned and operated the Kanawha Theater on Main Street in Grantsville.
While I was in high school John taught me to operate those carbon arc light 35mm Simplex projectors as well as how to splice and service the films.
I often served as a relief operator for John. Before I went into the Army I had considered a career as a projectionist, an occupation which has essentially vanished from the job scene.
In those days the film arrived at the post office in large metal cases. Each double reel held about twenty minutes of film so the average feature required three to five reels.
These required two large cans plus smaller containers for the single ten minute reels of cartoons and newsreels. The previews came in small metal tins and had to be spliced into the program.
Three times each week John would get out his little red wagon, load up the films just finished and return them to the post office. There he would collect this heavy load of the new program and pull it back to the Kanawha Theater. No delivery service here. It was a week in, week out task, rain or shine task.
Today John would only have to slip a DVD into his suit pocket and have had the entire show ready to go in a multiplex.
Actually, the post office might even deliver it, rain or snow, for a few cents.
Editor's Note: David Barr Hathaway may well have been Grantsville's visionary as a young man, dabbling in everything from writing for the school paper, playing pop music in a local band to broadcasting on his home-made radio station during World War II, but now most remembered for his photos of WWII life in Calhoun County.
Calhoun born in 1924, he married Joyce Alley Toothman. He was finishing his high school education when Calhoun High burned in 1942, then enlisted in the Army, and retired from the Franklin County, Ohio School system in 1987. His stories and photos are in the Herald's archives.
He was returned for burial in his beloved Calhoun sod in 2010.