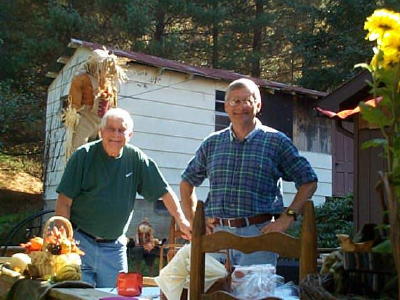 Walter Fox with son, Tom at the "Sycamore Fox Festival" 2001
Walter C. Fox passed on peacefully at home on Saturday, January 14, 2006. He was the father of Calhoun DNR officer, Tom Fox.
He resided in Belle with his wife of 59 years, Dorothy Thomas Fox. Walter was born on March 20, 1922, in Pittsburgh, Pa. He was preceded in death by his father, O.C. Fox and his mother, Emma Joann Fox Haumann.
Walter was a World War II veteran serving in the Asiatic Pacific Theater Co. E 201st Infantry from 1941 to 1945.
After leaving the Army, he attended West Virginia Wesleyan College and graduated in 1948. He was employed by E.I. DuPont Company, Belle Works from 1948 to 1987, as a chemist, instrument engineer, and a senior engineer.
He was also a retired management consultant for Astro Environmental, Houston, Texas.
He was a member of the Instrument Society of America, American Legion Post No. 62, the Brooks Bird Club, and the Kanawha Valley Senior Services, serving as a computer instructor for senior citizens.
He was also a former Boy Scout leader in the Buckskin Council.
Walter is survived by his wife, Dorothy; son, Thomas Fox and wife Dawn of Millstone; daughters, Sue Cox of East Bank, and Lou Ann Fauber and husband Ed of Belle; grandchildren, Russell Fox and wife Sarah of Huntington, Matthew Fox and Charlotte Duffield of Sturgis, Miss., Jay Fox of Huntington, Anna Fauber of Huntington, Amy Fauber of Belle, and Megan Cox of East Bank; great-grandchildren, Adria and Owen Fox of Huntington; and a special cousin, Nelle Morgan of Buckhannon.
The family would like to extend a special thank you to our many caring friends and neighbors for their expressions of concern and sympathy. Also, the family would like to express our sincere gratitude to Dr. Richard Hayes and staff and Thomas Memorial Health Services for their care and kindness during Walter's illness.
A memorial service will be held at 4 p.m. Saturday, Jan. 21, at Fidler & Frame Funeral Home, Belle.
Visitation will be from 2 to 4 p.m. Saturday. Friends are invited to share pictures and memories with the family. Walter's body has been donated to the West Virginia University Human Gift Registry, at his request.
In lieu of flowers, the family suggests donations be made to a charity of your choice.