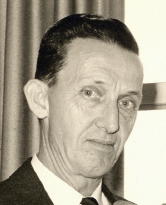 Orville Homer Hickman, 94, of Gay, West Virginia, died Thursday, January 12, 2006, in the Roane General Hospital, Spencer.

He was born November 20, 1911, at Liverpool, the son of the late C. Frank and Daisy D. Knopp Hickman.

Mr. Hickman was a retired 34 year employee of the E.I. DuPont plant, Belle. After his retirement, he purchased a farm in Roane County, where he raised tobacco, sheep and cattle for 34 years.

He leaves to mourn his passing, his wife of 68 years, Mozelle Halstead Hickman; two daughters, Sybil Hickman and Sherry Lake both of Gay; three grandsons, Darien Hickman of Houston, TX, Chris Lake of Minneapolis, MN and Clay Lake of Lynchburg, VA; three great grandsons, Jonathan and Zachariah Lake of Minneapolis, Josiah Lake of Lynchburg, VA.

A funeral service will be conducted Sunday, January 15 at 2:00 p.m. in the John H. Taylor Funeral Home, Spencer, with the Rev. Michael F. "Mike" King officiating. Burial will be in the Mt. Zion Cemetery, Gay.

Friends may call at the funeral home one hour before the service.