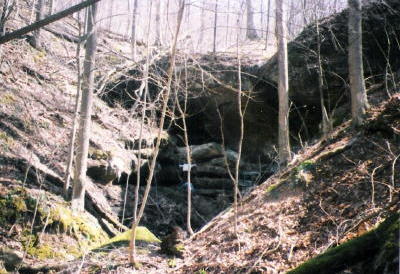 Paulcer's Cave is at the head of a hollow off Rowel's Run Road ...
... at the base of Paulcer's Knob, one of Calhoun's highest
peaks off Husk Ridge, and site of the Issac Husk Cemetery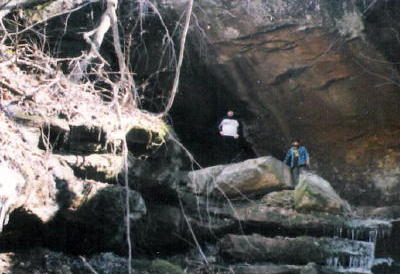 A stream flows down a narrow valley, dropping over the
cave entrance, which has partially collapsed in recent years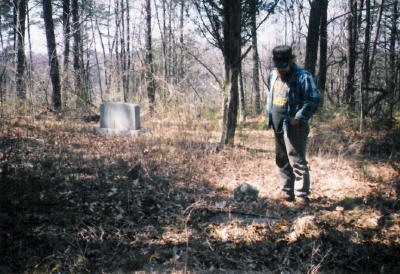 Hur resident Ronnie Starcher stands beside Paulcer McCune's
grave on the Husk Ridge, mostly filled with unmarked graves
By Bob Weaver
Sometime during the midst of the Civil War, a small rebel band came to the Village of Hur looking for Pvt. Paulcer McCune, who had gone AWOL from Company A, the 19th Regiment of the Virginia Calvary.
McCune had enlisted in December, 1862, and for reasons unknown, walked away from his unit to return to his wife, Elizabeth Weaver, and his small family, who lived down in Buckhorn Holler, the left fork of Barnes Run.
Neighbors knew the party was coming after McCune, the band having traveled long and hard over primitive roads and trails, crossing the mountains of Virginia and West Virginia. They sent word to the McCune family, about one mile away.
McCune fled to the Husk Ridge woods above his house, seeking a cave beneath the eastern flank of one of Calhoun's highest hills, a short distance from Rowel's Run.
Civil War regiments did not take kindly to soldiers who went AWOL, but after a search of the area, they departed back to Virginia.
McCune took up residence in the cave, a large over-hang which he boarded up, fearing the soldiers would return another day. He stayed in the cave until the war was over, making it his domicile.
Hur old timer Alva Bell, who visited the cave during the early part of the 20th century, found shoe tinkerers tools and remnants of leather the man used to make shoes for family members and neighbors.
Bell said the neighborhood kept McCune's whereabouts secret, and gave him support.
When the war was over, McCune returned to Buckhorn and his family, to later marry at least two more times, to Samantha Carpenter in 1873 and Clara Kerns in 1905. Among his children were, Lillian, Timothy, Henry and Gilbert Leadie McCune.
The cave, following the incident, was known as Paulcer's Cave, and one of Calhoun's highest peaks, on which the cave is located, is now known as Paulcer's Knob.
Paulcer McCune was a descendant of a well-know Calhoun historical figure, Peter McCune, his grandfather. The elder McCune married the 14-year-old daughter of frontier explorer Adam O'Brien. Both McCune and O'Brien were Revolutionary War soldiers and contemporaries of Daniel Boone, both were early-comers to the county.
Peter McCune built a cabin along the West Fork of the Little Kanawha River about 1815, which he later gave to the Brannon family.
Peter McCune fathered at least 12 children, including Paulcer's father, Peter McCune Jr. who married Margaret Bush of Harrison County. The family moved to the lower West Fork, an area between Richardson and Cedar Grove.
Paulcer McCune now rests in a small, hilltop family cemetery on the Husk Ridge, not far from his home, with most of the graves marked with nameless flag rocks.
Interestingly, McCune was discharged honorably, a government headstone was placed on his grave in recent years.