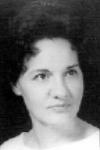 Ruth Douglas Keith Boggs, 82, passed away December 22, 2005.

She was born May 16, 1923, in Milo, Calhoun County, West Virginia. Ruth was a 1942 graduate of Calhoun County High School. During World War II, she moved to Akron and became a riveter.

She married her high school sweetheart, Gordon Keith, and then married George Leo Boggs; both preceded her in death. She is survived by her daughter, Rhonda (Fred) Keith Stephens; son, Samuel (Carol) Keith; stepdaughters, Jane Carl and Juanita Ferrell; grandchildren, Jude Keith (Kate Flock), Foy Keith, and Michael Keith (Krystal Skaggs); great-grandchild, Joseph Keith; brothers, Nolan Douglas and William (Joyce) Douglas; and numerous nieces and nephews.

Funeral services will be at 12 p.m. Monday at the Dunn-Quigley, Ciriello & Carr Funeral Home (811 Grant St. Akron, Ohio ), where friends may call from 11 a.m. until service time. Interment at Grandview Cemetery in Ravenna.