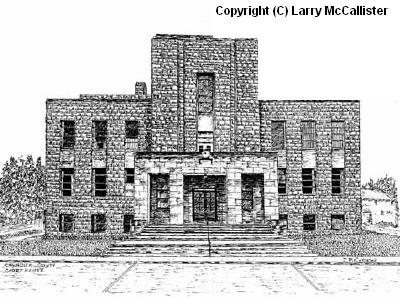 Calhoun County Courthouse
larrymcc.com
Calhoun County settlers were arguing so much, they missed the most important vote of West Virginia's history, the 1863 vote for statehood.
Calhoun Historical Society President, Bob Bonar, said there were no government officials to take care of anything because they couldn't agree on a county seat.
The county was formed in 1856, but spent several years moving the county seat around, between Pine Bottom, Arnoldsburg and Grantsville.
It took a lawsuit and a couple of countywide votes before Grantsville became the county seat in 1869, much to the disappointment of southern county residents.
They claimed the election was rigged, and it may well have been.
The ill feelings continue into the 21st century, usually perpetuated by politicians trying to get elected.
The current courthouse was started in 1939, but World War II delayed the process about four years.
The county's three-story courthouse is built of stone from a local quarry.
County officials picked Art Moderne as the design for their new building. The style uses heavy cubic forms, flat surfaces and features horizontal grooves or lines in the walls.
The structure did not fit well architecturally with its surroundings.
A cornerstone containing historical items is still in place.
The courthouse's most unique feature is the second-floor courtroom.
"It has one table that both the prosecutor and the defense attorney sit at together and the jury box has striped colored seats from the old Kanawha Theater in Grantsville," said an early newspaper article.
The late Larry McCallister, former member of the county commission, did a pen drawing of the courthouse, and was commissioned to do drawings of the state's other 54 courthouses. He published a book of county courthouses.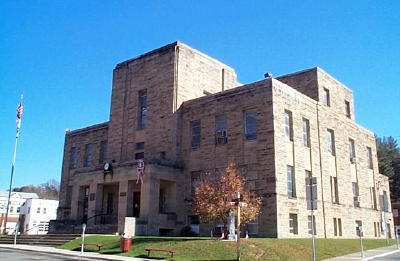 The Calhoun Commission obtained funds a for window replacement in the courthouse and roof replacement, built new front steps, improve the HAV system and continues with efforts to obtain an elevator for handicapped access