HIGH WATER RUSHED OUT OF TRIBUTARIES OF WHITE PINE ON JUNE 11, 2021, A SMALL TASTE OF TRAGIC FLOODS THAT STRUCK COMMUNITY OVER 80 YEARS AGO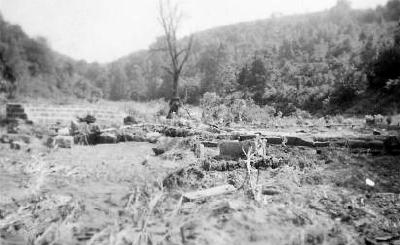 "There was nothing left along the creek, just shining rocks,"
said Helen Hamilton about the 1943 White Pine flood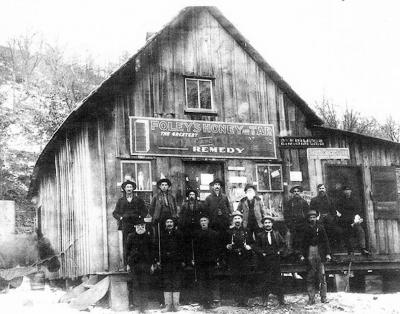 An early store and grist mill was likely a flood victim in the ill-fated village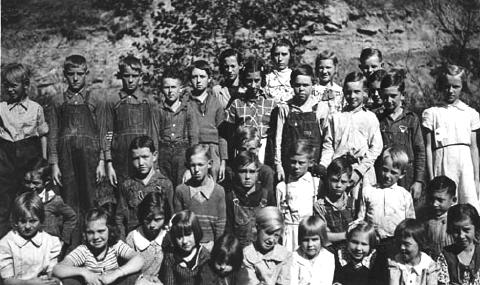 The faces of students who endured the White Pine floods in the 30s and 40s
Front (left to right): Margie Ferrell, Rose Grimm, Kathryn Kelley, Edna Carol Whipkey, Maxine Kelley, Hester Kight, Mary Lee Whipkey, Yvonne Whipkey, JoAnn Westfall, Lyla Lee Kight; Second Row: Jack Kight Jordan, Parker McCartney, Eugene Kelley, Donald "Buckey" Wease (behind Raymond Kendall), Ronzel White, Bill White, David Barr, John Dale Ferguson; Back Row: Lewis Kight, Jake and Jack Hickman, Roger Grimm, Eugene VanCamp, Unknown, Wava White, Mary Kelley, Grey Whipkey, Dorothy White, Forest Kelley, Darrel Wease, Helen Kight, Harlan VanCamp, Mildred Ferrell. Jack Bland was teacher of the "Big Room" and Imogene Morgan (Campbell) was the teacher for the "Little Room." (Photo Courtesy of Rose Grim Campbell)
By Bob Weaver
It was "One of the dearest little towns in the world" - White Pine, wrote resident Gene Hope Ayers Kight in 1943.
Kight documented the devastation of her community after flood waters rushed down Road Fork, Slab Fork and Laurel Creek through the narrow White Pine valley, leaving nothing untouched.
The village was established along a primitive road about 1880, and once had a population of 350, mostly connected to the timbering industry.
That road, while now black-topped, is still a narrow, curvaceous path.
Besides stores, grist mills, a blacksmith shop, and a newspaper, it had a post office.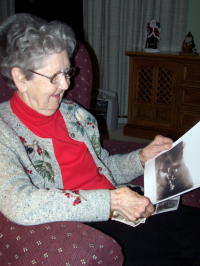 Kight's daughter, Helen Hamilton (pictured left), widow of Grantsville attorney Victor Hamilton, recalls fleeing up the hillside the night of the '43 flood.
"We stayed in the woods above our house, waiting to see what the flood waters would do," the families in the village got nervous when the creek water started to rise, remembering the floods of 1937 and 1939, which hit the community hard.
"It was a complete wash, right down to the rocks. Our house was the only one not completely gone. It got caught on a cellar about 150 feet down stream," said Hamilton.
Hamilton said she is concerned that several people have now built right beside the creek, in harms way. "I'm sure none of them recall those devastating floods."
"They would have fear if they witnessed, like I did, a large store building and lodge hall picked up from its foundation, briefly floating, and then being swept down stream, completely destroyed," she said.
Mrs. Howard Bee, 25, and her six-month-old daughter, Lily Mae Bee, were found some distance away from their Calhoun home on Tanner's Run. The body of Mrs. Bee, her nightgown entangled in a barbed wire fence, was located a mile below Tanner on Trace Fork.
Her child's body, which was not discovered until later, was found across the county line in Gilmer County. When their home was swept away by the high waters, Mr. Bee and Mrs. Bee's father managed to get ashore. Both suffered injuries.
Five died in Wirt and 16 in Braxton County, with damage estimated at $2 million in five central WV counties.
Newspaper accounts said the speed of the water was so great that families had no chance to escape. Most of the occupants, whose bodies were later found when streams subsided, had been asleep in their homes.
Besides families being homeless in the White Pine area, the Huffman dairy at Leafbank was destroyed. Two bridges, valued at $20,000, were dumped into the swollen streams, and a 75-foot gorge was on State Route 35 near Big Springs.
The flood also struck Bull River, Yellow Creek, Simmons Run and Big Spring communities.
The Little Kanawha River at Grantsville rose to 36 feet.
Helen Hamilton said as many as one thousand people came to witness the devastation on White Pine.
"We left the White Pine valley after the '43 flood for higher ground on Pleasant Hill," she concluded.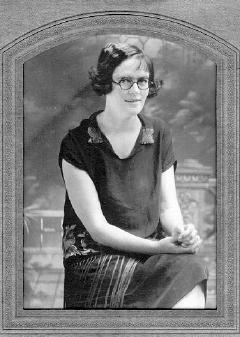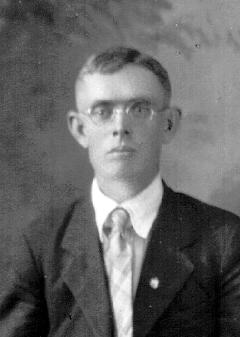 Gene Hope Ayers Kight and her husband, Dallas Kight, survived
the '43 flood (Photos courtesy of Helen Hamilton and Garnet Kelley Barr)
RECALLING WHITE PINE FLOOD
By Gene Hope Ayers Kight (1943)
White Pine was a quiet little village, where folks lived and loved, but in the early morning hours, before the light of day came across the hills, of August 5, 1943, the village was completely swept away.
White Pine was named for the white pines that stood guard on the hill overlooking the village.
The post office has been a sort of family affair with my folks. My grandfather, Isaac Simers, two of my uncles, S.H. and George H. Simers, and my dad, W. H. Ayers, were all postmasters before my term started in February 1923.
W.T. Webster was the only postmaster except members of our family at White Pine.
Many years ago there were three stores and a large grist mill at White Pine.
Lee Gainer, now of Glenville, used to keep a hotel where Dallas Kight's house was.
His brother, Ed Gainer, lived in the house where Francis Kelley lived. Postmaster Fred Gainer, of Parkersburg, was born there and he and his bride, June Goff, of Hazel Green, first kept house where Dallas Kight's house stood.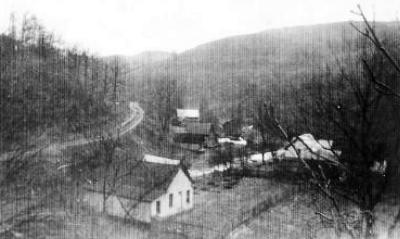 The second Ayers store (left), re-built after the 1937 flood
was washed away in '43, in addition to the Dallas Kight house (right)
W.H. Ayers had a store here 54 years before a flood in 1937 washed it away.
He and his bride, Hester M. Simers, first went to housekeeping in January 1889 in the house where my mother still lived when the recent flood washed her home away.
Leonard Burrows was a newcomer to our village. He had worked in Cleveland and saved his money and bought the Henry Kight place on Road Ford.
It was a very attractive little white cottage, but was completely swept away by the flood.
He and his wife, Sarah Metz, are from the Five Forks community.
Homer Kendall, his wife, Geraldine Robinson, and their four children had a little cottage covered with brown shingles near the church. They were all away the day of the flood and when they returned their home had vanished.
Royal White, his wife, Alma Kelley, and their six children lived below the church in the house where Royal's dad and mother lived for many years, until Mr. White's death.
Mrs. White, or "Aunt Lillie," still made that her home.
During the flood an oil tank smashed into their home and it was swept away. Their dog rode on the house until it touched the bank on the opposite side of the river where he jumped off.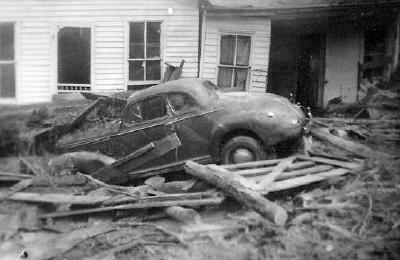 Dallas and Gene Hope Kight's house was the only one
left standing, caught downstream, but still destroyed
The Dallas R. Kight home where we first went to housekeeping in 1927, was washed about 125 feet and lodged against mom's cellar house. It was wrecked.
I noticed a fish lying on a shelf in the kitchen.
One of my hobbies is a pitcher collection. My daughter, Helen, had washed and fixed my pitchers all up on Tuesday and only one was broken, not one falling from the shelves.
The house had hit the cellar so hard that it was broken in two and had broken plaster board near one shelf of pitchers in the kitchen.
Mrs. Winnie Grimm was spending the night with Mom and her granddaughter Maxine Haddox. They, with Dal, Helen, Peggy and I were part way up our hill for about four hours during the flood, while on the opposite hill Francis Kelley, his wife, Della Grimm, his mother, "Aunt Polly" Kelley, son Donald Burl, and daughter Frances Jean Yoak were stranded.
Aunt Polly was 87 years old last October, but she took all this in good shape.
When morning came it was a desolate looking place, but we were not bitter or broken. We all had our loved ones safe and our memories and our dreams.
Material things mean so little when death is hovering so close.
A divine hand led the folks of White Pine that night. The next day you heard on every side, "I'm so thankful everyone is safe."
The flood waters swept many out-buildings away for folks whose homes were not taken.
Water was in the homes of J.P. VanCamp, J.K. Ferguson, Callie Simers, Claude R. Wease, Ola O. White and Gilbert Haddox.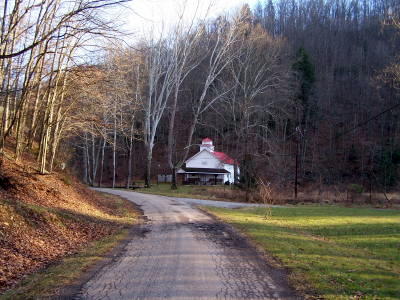 The water rushed down the hollow to dislodge the Cherry Fork Church
in 1943, shown here in 2005. Built in 1901 by committee, Ben Kight,
John Kelley, Amos Ash, James Hickman and B.J. Ash (Hur Herald Photo 2005)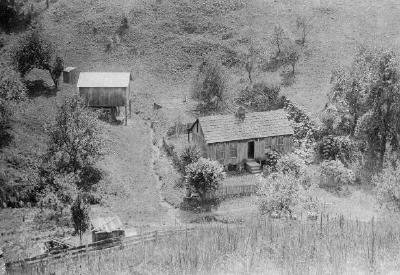 Early 1900 photo of Oscar Ash house on White Pine,
a village that once had 350 residents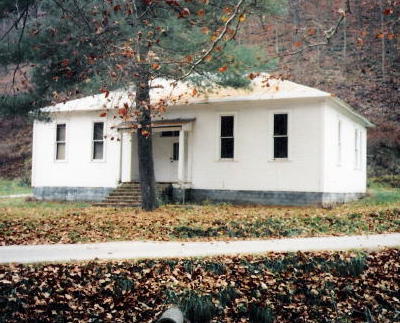 Still standing, a last "soldier" is the White Pine school

The church was moved about four feet off its foundation. It is a lovely place around the church.
It had just been painted and had varnish to finish the inside. A new foundation has been put under the floor, fixed where it was broken up the center. That old church is a very sacred memory for so many. That's where we all went to our first Sunday Schools.
Now there is an Honor Roll for our boys in the service (World War II) hanging there. I believe there are 20 boys from White Pine in the service. They are scattered all over the world, but White Pine still means home to them. Many prayers are said in that little white church for their safe return.
My memory goes back tonight to the days when I was a kid tagging along with Dad - and he was the best Dad in the world, one of the finest persons I have ever known.
How we loved to go up to Uncle Ed Gainer's to play with Georgia.
I liked to watch Uncle Lawson Kelley grind corn into nice soft meal, and at Easter we kids all gathered up at Grandpa Simers and he had a big iron pot in which he would boil and color Easter eggs.
Over in his shop or store, "Granny" Simers was a refuge for us all. She fixed us sandwiches, made us wool 'wristlets,' often caught us with wet feet when the ice wasn't as thick as we wanted it to be; then we sat by her fire and dried our clothing.
Sorrow came to White Pine but we always shared one another's sorrows as well as joys.
How dear good neighbors helped one another.
The day after the flood, "Aunt Della" Kelley said, "Well, it's all swept away, but we can lay up our treasures in Heaven and they will be safe there."
So some day I hope all the folks that ever called White Pine home can meet over in Heaven and tell our memories of one of the dearest little towns in the world, again.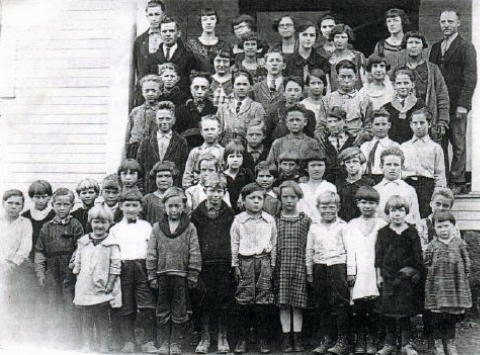 White Pine School - April 11, 1923
Front row (L to R) Thurl Burrows, Doyle Kight, Oleth Burrows, unknown, unknown, Woodrow Kelley, Howard Grim, Glendon Kight, Orval Kelley, Clarence Hickman, unknown, Clifford Burrows, Geraldine Kelley, Herma Kelley, unknown, Eddie Frederick.
2nd Row (L to R) Dola Kight, Lillie Kight, Coe Hickman, Greta Kelley, Ermal Kelley, Genevieve Kelley, Ruby Hickman, Geraldine Whipkey, unknown
3rd Row (L to R) Denver Kight, unknown, unknown, Boyd Kight, Kenneth Grim, unknown, Blendon "Tick" Kelley
4th Row (L to R) Harry Kight, Kermit Kight, Fred Kelley, Edith Kight, Nellie Whipkey, Wibur Frederick, Ermal Webster, Joy Kimbal, Gladys Kelley, Joe Webster, Goldie Kight
Back Row (L to R) Kenneth Whipkey, Elias Yoak, Lillian Frederick, Nola Kelley, Dollie Simmers, Billy Ayers, Alma Kelley, Susie Grim, Rachel Frederick, Roy Kemper
Others known to be in picture but not identified: Glen Cunningham, Madge Cunningham, Hope Whipkey, Minnie Frederick, Herbert Delaney, Gay Cunningham Photo courtesy of Freddie Charles Kight, born July 5, 1919 at White Pine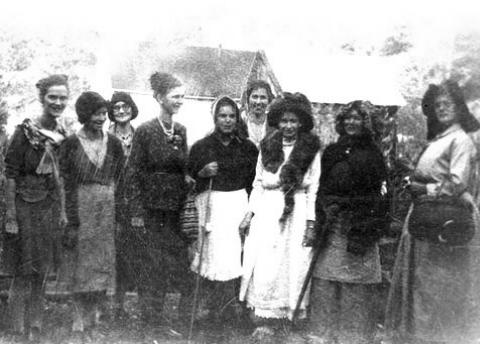 White Pine Farm Women's Club Halloween Meeting Early 1930's
Left to right: Mabel Ayers Haddox, Nellie Ayers, Zella Webster, Hattie Ayers Kight, Dollie Simers Grimm, Lelah Simers VanCamp, Ermiel Webster, Genevieve Kelley Ward, and Gene Hope Ayers Kight. (Photo Courtesy of Rose Grimm Campbell)
Photos courtesy of Helen Hamilton and the Hur Herald, unless otherwise stated.