By Bob Weaver 2005

Judge Reese Blizzard of Wood County may be best known for calling Mother Jones "The most dangerous woman in America" (while he was a prosecutor) or sentencing John Morgan to be hanged while he was a judge, but to early Calhoun citizens he was just "Reese," the husband of Lillie Stump.

Lillie was the daughter of Albert H. (Dick) and Drucilla Ball Stump, operators of the Stump Hotel on Main Street, Grantsville.

Mary Harris "Mother" Jones appeared in federal court at Parkersburg in 1902, charged with ignoring an injunction banning meetings by striking miners.

Blizzard said, "She comes into a state where peace and prosperity reign. She crooks her finger and 20,000 men lay down their tools." Mother Jones died in 1930, saying "I'm no lady, I'm a hell raiser."

Blizzard sentenced John F. Morgan to death after he murdered Chloe Greene and two of her three children in Jackson County in 1897. Morgan was the last man to be hanged in public in WV, his execution drawing over 5,000 spectators from the region, including many from Calhoun, who had diner on the ground.

Former Spencer DJ and fledgling songwriter Tom T. Hall wrote about the famous event for a country song.

Blizzard was elected judge of the Sixth judicial district in 1896. He was appointed United States district attorney in 1900 by President McKinley and was later appointed United States district attorney for the northern West Virginia district by President Theodore Roosevelt.

Landing in Calhoun after his parents moved to Gilmer, Blizzard married one of the Stump girls and endured frontier life in the fledgling county.

In 1896 a newspaper account says Blizzard's home in Grantsville was destroyed by fire, but the "inmates survived," indicating Blizzard was the jailer.

"The fact that several persons were sleeping in the building and that they so narrowly escaped with their lives measurably compensates for the loss of property."

"The occupants of the house at the time it burned were Mr. Blizzard (his wife having already died), his four children, two sisters, Misses Cora and Nancy, Miss Minerva McIntosh, George Jackson, Thomas Stevens, Harmon Martin and Arnold Hays. The Misses Blizzard and McIntosh jumped and were badly hurt."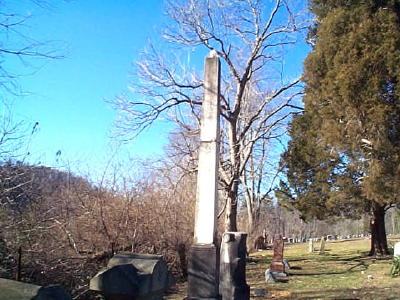 Blizzard's first wife, Lillie Stump, rests in Grantsville's Bethlehem Cemetery
Reese Blizzard lived in Nicholas County until he was thirteen, and thereafter made his home with his parents in Gilmer County, then coming to Calhoun after attending Glenville Normal School.
He taught school, worked on a farm, clerked in a store, was assistant in the circuit clerk's office and carried mail. He read law at Glenville with the firm of Linn & Withers, and was admitted to the bar in 1886.
Beginning practice at Grantsville, he was soon recognized as a man of "superior powers" in the law and his practice extended over Central West Virginia.
He was elected circuit judge of the Sixth Judicial Circuit in 1896, covering Gilmer, Calhoun, Roane, Jackson and Clay, serving only four years of his eight-year term, resigning midway to go to Parkersburg.
He then went on to hold higher positions. A lifelong Republican, he was also editor of a Parkersburg newspaper and had numerous other business interests.
He died in 1940 at the age of 79.