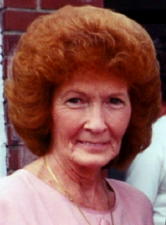 Well-known Roane County educator, D. Nadine McKown, 66, of Spencer, died at her residence Thursday following an extended illness.

McKown retired in 1995 after 30 years of service in education. At the time of her retirement, she was Director of Personnel and Director of Curriculum & Instruction for the Roane County Board of Education.

Among her accomplishments were starting kindergarten classes in Linden, Newton, Left Hand and Walton schools. She was the first principal of the Geary School, Left Hand. She formerly taught classes at Glenville State College and was an adjunct professor at COGS. She was a member of the W.Va. Association of Retired Teachers.

She earned a Bachelors Degree in Elementary Education from Morris Harvey College; a Masters Degrees in both Early Childhood Education and Education Administration from COGS.

She was also a member of the Roane County Republican Executive Committee and the Roane County Republican Women's Club; a member of the Newton Baptist Church and the Eastern Star. She was a past member of the Delta Kappa Gamma.

McKown was active in 4-H, serving as club leader and various other capacities.

She was born February 28, 1939, in Clay County, a daughter of the late Tommy A. and Ruby A. Samples. In addition to her parents, she was preceded in death by her husband, C.I. "Buddy" McKown, Sr., and one brother, Neal Samples.

Survivors include a son and daughter-in-law, C.I. "Sam" and Feli McKown of Newton; three grandchildren, Isaac, Quincy and Victoria McKown; brother, Garrett Samples of Clendenin; two sisters, Emogene Morris of Jacksonville, FL and Karen Dawson of Ovapa; a godchild, Jill Jett of Little Hocking, OH.

A funeral service will be conducted Sunday, December 18 at 2 p.m. in the John H. Taylor Funeral Home, Spencer, with the Rev. Ronald W. Fisher officiating. Eulogies will be given by Joe Evans, (former Roane County schools superintendent), Carmel Morris, (classmate and brother-in-law), and Donna Dunn, (longtime friend and colleague).

Burial will be in the King-Kirkhart Cemetery, Newton. Friends may call at the funeral home from 2-4 and 6-8 p.m. on Saturday.

In lieu of flowers, memorial contributions may be made to either HospiceCare, 1143 Dunbar Ave., Dunbar, WV 25064 or the Campaign for Roane General Hospital, c/o Roane General Hospital Foundation, 200 Hospital Drive, Spencer, WV 25276.