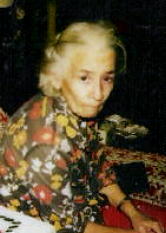 Mittie A. Sampson, 92, of Grantsville, West Virginia, passed away Wednesday, December 14, 2005 at her home.

Born in Calhoun County she was a daughter of the late Dock and Bertie Sturm Hathaway. She was a former employee of Gordon Memorial Hospital of Spencer and was a housewife, loving mother, grandmother and friend.

Surviving are sons, Gerald Sampson and his wife Helen, and Doyle Sampson of Mt. Zion, Darrell Sampson of Grantsville; daughters, Marie Diron and her husband Rudi, and Patricia Dawson of Euclid, Ohio; 2 brothers, Frank Hathaway and his wife Phyllis of Elizabeth, and Ira D. Hathaway and his wife Irene of Orlando, Florida; 19 grandchildren, 25 great grandchildren, and 3 great-great grandchildren; several other family and friends.

In addition to her parents Mrs. Sampson was preceded in death by her husband, William H. Sampson, an infant daughter, Jewell Sampson, five brothers and 2 sisters.

Funeral services will be held 2 p.m. Saturday, December 17 at Stump Funeral Home, Grantsville. Interment will be in the Gibson Cemetery, Arnoldsburg.

Friends may call at the funeral home one hour prior to the service.