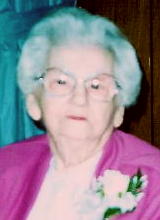 Audrey Merle Bower, 91, of Elizabeth, West Virginia, went to be with the Lord Monday evening, December 12, 2005 at her residence.

She was born in Calhoun County, a daughter of the late Samuel and Theodosia Kendall. She was a member of the Big Island Run Methodist Church and a member of the Wirt County Senior Citizens.

Surviving are two sons, James R. Bower of Mineral Wells and Jerry Bower (Lisa) of Parkersburg; three daughters, Delores G. Fortney of Waxhaw, NC, Doris N. Cain of Madison, Ohio, and Kathy Hopkins (Jerry) of Elizabeth; 12 grandchildren, 20 great grandchildren, and 13 great-great grandchildren.

She was preceded in death by her first husband, George Bush and her second husband, James H. Bower; brothers, Jack, Keith, Homer, Brian and Holly; two sisters, Fannie Harris and Pearl Hickman; one grandchild and one great grandchild.

Services will be held 11 a.m. Thursday, December 15 at Stump Funeral Home, Grantsville, with Reverends Tim Bell and Delmas Stutler officiating. Burial will be in the Bethlehem Cemetery, Calhoun County.

Friends may call at the funeral home from 4 to 9 p.m. Wednesday and 1 hour prior to the services on Thursday.