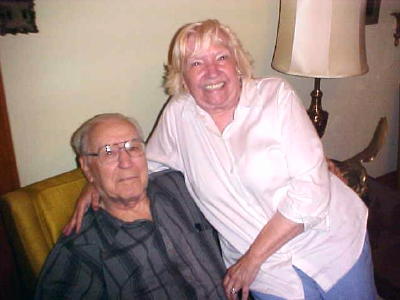 Elsie with husband Virgil Daughtery
(Hur Herald Photo)
One of Spencer's much-loved ladies has died after a battle with cancer.
Seventy-seven-year-old Elsie Daugherty died Tuesday at Roane General Hospital from complications associated with congestive heart failure.
She had been a member of Spencer's town council since 1985.
She served on the board of directors for the Roane Chamber of Commerce and was a member of the Spencer Development Authority.
She was married to well-known Roane Countian Virgil Daugherty, who died in June 2004 at the age of 102.
She was named Roane County Citizen of the Year by the chamber in 1999 and was recently recognized as a Hometown Hero by an area television station.
Daugherty retired after 41 years at Spencer Manufacturing, later Kellwood Co., and wrote a weekly recipe column for Spencer Newspapers.
Daughtery was described as an unselfish person who always had something good to say.
Funeral services are being scheduled at Taylor-Vandale Funeral Home in Spencer.