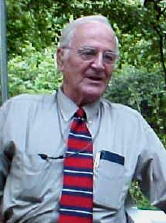 Joe Nutter was a Roane-Calhoun fence rider, growing up in the backwoods on the lower West Fork near Cedar Grove on the Roane County side.

He died Monday, October 31 in a Parkersburg hospital.

A memorial service will be held at 2 p.m. Thursday at the Word of Faith Fellowship on Arnoldsburg Rd. near Spencer. His cremains will be buried in the Connolly Cemetery on the family farm.

Joe was a man of place, close to his roots, close to his people, and was past president of the Roane County Historical Society.

He savored history and genealogy, the comings and goings of his spot on the globe.

He frequently attended the Cedar Grove Homecoming, recalling how he and family members waded the West Fork to attend the long-closed country church.

"My whole world was up on Mulberry and down along the river," he said. "Life was much slower and you paid attention to things around you, the people, and where you were."

Joe treasured his roots, returning to his family farm in the mid-1990s to build a dream house for he and his bride of 50 years, Johanna Griffin Nutter.

After moving to Lakeland, Florida in the late 1940s, he served in the US Navy. In 1985 he retired from International Minerals and Chemical Corp. after 31 years.

He was an ordained minister, currently serving the Word of Faith Fellowship on Arnoldsburg Road near Spencer. He enjoyed camping, photography and volunteering for the Boy Scouts of America.

He is survived by his wife, Johanna; two sons, William Samuel of Canton, Ohio and Michael William of East Sparta, Ohio and a daughter, Marianne Hunt of Lakeland, Florida. He has a daughter, Melissa Ann Nutter from a previous marriage.

He is survived by a brother, John Anthony Nutter of Lakeland, Florida and a sister, Virginia Lynn Garnar of Keystone Heights, Florida, and five grandchildren.

He was preceded in death by his parents, William Jennings and Evelyn Belle Sarver Nutter, and a son, Joseph William Nutter II.

In lieu of flowers, memorials can be made to Boy Scout Troop #437 of Spencer, the Roane County Historical Society and the Roane General Hospital Auxiliary Scholarship Fund.