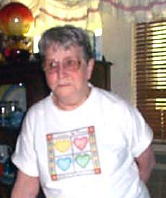 Violet S. "Vi" Victor, 80, widow of Raymond Victor, went home to the Lord on October 28, 2005.

She was born Violet Suzie Roach in Rocksdale, Calhoun County, West Virginia, to the late Birdie Leota Anderson and Jasper Denver Roach.

Although born in WV, she resided most of her life in Akron. During WWII she was a "Rosie the Riveter", working for Goodyear making airplanes for the war effort. When no longer needed at Goodyear, she turned to working in food service, working the lunch counter at the downtown Akron Walgreen's until its closure in 1960. She then went to work for the Board of Education retiring after 25 years of service as the Head Cook at North High School. Also known as a caterer, Vi provided service for countless wedding receptions and church gatherings.

She is survived by four children, Donna Powell of Columbia, MI, Barbara Ann Wright and her husband Darrell of Arnoldsburg, WV, Ron Victor and his wife Donna and Chuck Victor and his wife Paula, all of Akron, twelve grandchildren, thirteen great grandchildren and two great-great grandchildren; and her sister, Reva Campbell and her husband Lloyd of Sun City, CA.

In addition to her parents and husband she was preceded in death by daughter, Shirley Conners; sisters, Edna and Alma; and brothers, Ogle, Harry and Howard.

Calling hours will be held at the Donovan Bagnoli Funeral Home 339 Southwest Avenue, Tallmadge, Ohio on Monday evening from 6-8:30. Friends may also call from 10-11 a.m. immediately preceding the service. The funeral service will be on Tuesday beginning at 11 a.m. with Rev. Robert Kuhns officiating. Interment will be at Chestnut Hill Cemetery.

In lieu of flowers the family requests that memorials be made to Hospice Care Center on Ridgewood Road or Stewart's Caring Place 2955 West Market Street, Suite R, Akron, OH 44333.